Ivory Coast Calls For End to Drilling in Disputed Waters
by John James & Ousmane Attai
|
Dow Jones Newswires
|
Friday, November 18, 2011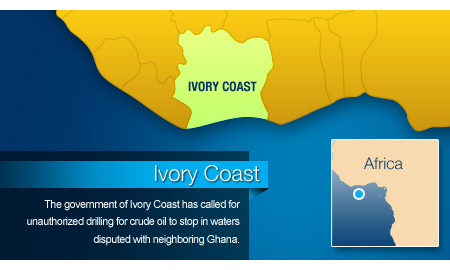 ABIDJAN (Dow Jones Newswires), Nov. 18, 2011
The government of Ivory Coast has called for unauthorized drilling for crude oil to stop in waters disputed with neighboring Ghana, a ministry official said Friday.
He also confirmed the creation of five new offshore oil blocks, CI-540 to CI-544, in the disputed zone.
"We say the area belongs to us, but the Ghanaians say it belongs to them, and that's the center of the debate," said Kouakou Dongui, exploration manager at the hydrocarbons office at the ministry of energy and mining.
"The map is part of discussions at the level of the joint commission put in place by the two countries to discuss the dispute," he said.
The maritime border between the two countries has never been formally delineated, but Ghana understands the border to run in a southwest direction from the coast, whereas Ivory Coast says it runs southeast.
Discussions started following significant offshore finds in the area under exploration authorized by the Ghanaian government.
The energy and oil minister, Adama Toungara, promised in June to increase offshore oil production from the current 50,000 barrels a day to 300,000 by 2015.
Copyright (c) 2011 Dow Jones & Company, Inc.
Generated by readers, the comments included herein do not reflect the views and opinions of Rigzone. All comments are subject to editorial review. Off-topic, inappropriate or insulting comments will be removed.