Koch Brothers Stay True to Selves amid Occupy Backlash
by Jaime Kammerzell
|
Rigzone Staff
|
Thursday, November 24, 2011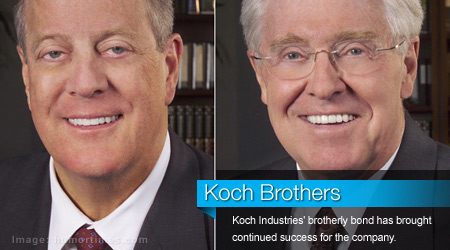 Occupy protesters followed David Koch to the conservative Americans for Prosperity Foundation's two day conference in Washington, D.C., on November 5, according to a Forbes article by Clare O'Connor.
This latest incident followed an October 29 protest at Koch Industries in Wichita, Kansas. According to the Wichita Eagle, they chanted, "Main Street, not Wall Street and Pay your share" as they marched.
On the other side of the argument, signs read, "I Stand for Charles and David Koch, Who Stand for Principled Entrepreneurship and Freedom, and Against Crony Capitalism," the newspaper reported.
Koch Industries responded with a written statement from company spokesperson Melissa Cohlmia.
The statement read:
"Rather than protest an American company that employs 50,000 Americans, including more than 2,600 Kansans, we encourage citizens to turn their attention to the burden of excessive government spending, uncontrolled debt and onerous regulations that are crippling our nation.
As we have for decades, Koch's efforts will continue to be focused on producing products that people want and need, while promoting policies that will help grow our economy, foster free enterprise and create American jobs. We believe these goals are supported by most Americans and are critical to our nation's future."
Foundation for the Future
Fred Koch, the patriarch of what is today known as Koch Industries, currently the second largest privately held company in the U.S., started as a chemical engineer who founded an oil refinery in 1940. His future fortune would serve as a foundation for his sons to grow and expand the family business as well as follow their passion for philanthropy and liberal politics.
Fred's career took off when he developed a more efficient thermal cracking process that turned crude into lighter oils and gasoline. Small, independent oil companies reaped the benefits of this process, which led to bigger yields. However, major oil companies tried to stop Koch by filing more than 40 lawsuits for patent infringement. Fred won nearly all the lawsuits, but the litigation took its toll on his engineering firm, and the company left the U.S. market.
Fred regrouped and from 1929 to 1931 built oil refineries in Europe, the Middle East and Asia. But the real money came when the Soviet's contracted Fred to build 15 refineries in the Soviet Union as well as train Soviet technicians under a $5 million contract, which served as a foundation for Fred's future fortune. While it was a lucrative job for Fred, he witnessed communism first hand and feared that the Soviets were conspiring to take control of the U.S. Thirty years after his Soviet experience, Fred published, "A Business Man Looks at Communism," that warned of the Soviet's plans to take over America.
Once back on U.S. soil, Fred married Mary Robinson in 1932. Their son Fredrick arrived one year later, followed by Charles in 1935 and twins David and William in 1940. He also started acquiring assets at a a low price in 1933, as it was the height of the Great Depression.
In 1940, Fred joined with new partners to create the Wood River Oil and Refining Company. In 1946, Wood River acquired the Rock Island Refinery in Oklahoma and the company was renamed the Rock Island Oil and Refining Company. The company began as an engineering firm, but also held interest in a Minnesota refinery, a crude oil-gathering system in Oklahoma and cattle ranches.
In 1966, Fred stepped back and his son, Charles, took over the day-to-day management of Rock Island. In November 1967, while on a hunting trip, Fred died of a heart attack, leaving Charles in charge of the family business. The company was renamed Koch Industries in 1968.
Though it remains a privately-held company in Wichita, KS, Koch Industries has expanded into manufacturing, refining and distribution of petroleum, chemicals, energy, polymers and fibers, minerals, process and pollution control, ranching, refining and chemicals, commodity trading and services, forest and consumer products and fertilizers. Koch Industries employs about 67,000 people in 60 countries.
Band of Brothers
Charles G. Koch is chairman of the board and chief executive officer of Koch Industries. He owns 42 percent of the business along with his brother David, executive vice president, who also owns 42 percent.
Though David and Charles have two additional brothers, neither one is active in Koch Industries. David and Charles bought out Frederick and William for $1.1 billion in 1983 after a public feud and lawsuit.
Forbes magazine listed Charles as the 24th richest man of 2011, with a net worth of approximately $22 billion. Though he inherited his father's mid-size oil refining business, Charles has grown the company to more than 2,000 times its original size by branching out into other oil-related fields. Today, Koch Industries reaps an estimated $40 billion in annual revenues.
Koch earned his bachelor's degree in general engineering in 1957 from MIT as well as two master's degrees -- the first in mechanical engineering in 1958 and the second in chemical engineering in 1960.
Charles went to work for Arthur D. Little in 1959, but returned to the family business in 1961 as vice president of Koch Engineering Co. He was quickly promoted to president in 1963 – a position he held through 1971. Charles also served as president of Koch Industries from 1966 to 1974, as well as Chairman and CEO from 1967 to the present. Charles passion, according to a November 7 Forbes magazine article, "is to find ways to foster an economic system that allows everyone to prosper, one where everybody benefits, especially the poorest people."
Charles attributes his success to his free-market business philosophy, which is directly related to his father's communist fears. His patented "Market-Based Management" (MBM) style of leadership encourages employees to act as entrepreneurs who contribute to a wealthier society, much like the Austrian economic philosophies of Friedrich von Hayek and Ludwig von Mises. MBM takes what drives superior results in free societies and applies it to business. Thus, Koch Industries compensates its employees based on their value to the company. In addition, employees do not have a set pay scale or formal job titles.
Charles explained his business strategy in the 2007 book, "The Science of Success: How Market-Based Management Built the World's Largest Private Company."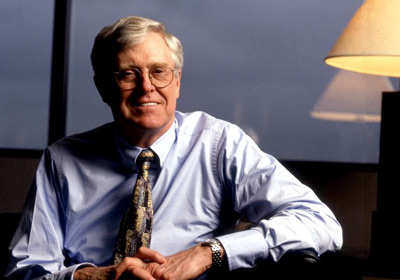 Perhaps equally known for his liberal-minded politics as well as his business success and generous charitable donations, Charles co-founded the Cato Institute in 1977 with Edward Crane, president and CEO. It is a libertarian think tank based in Washington, D.C. According to its Web site, the Cato Institute is "dedicated to the principles of individual liberty, limited government, free markets and peace. Its scholars and analysts conduct independent, nonpartisan research on a wide range of policy issues."
In addition, Charles started the Charles G. Koch Charitable Foundation in 1980. Its mission is "to advance social progress and well-being through the development, application and dissemination of the Science of Liberty," the study and practice of sustainably advancing liberty to create prosperity and societal progress.
David joined Charles at the family business in 1970 as a technical service manager, and in 1979 David became president of Koch Engineering. Today, Forbes has listed Koch as the sixth wealthiest man in the US, worth about $22 billion.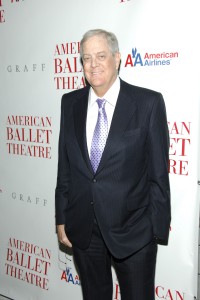 David followed his father and Charles' footsteps to MIT where he earned a bachelor's degree in 1962 and a master's degree in 1963 in chemical engineering.
After college, David went to work for two Cambridge engineering firms before moving to New York in 1967 to work for the Scientific Design Company.
In 1970, in addition to becoming the technical service manager of Koch Industries, he founded the company's New York office. In 1979, Charles put David in charge of his own division, Koch Engineering, which is known as Koch Chemical Technology Group today.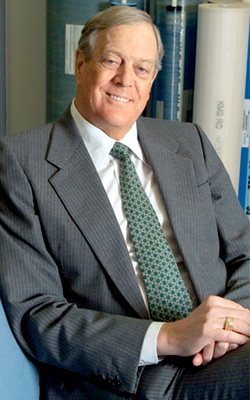 David has dabbled in politics, having run for vice president on the Libertarian ticket in 1980. However, he split from the party in 1984 to become a Republican when he disagreed with the Libertarian views on eliminating taxes.
David's political views are similar to those of his brother. He once said his dream is to "minimize the role of government, to maximize the role of private economy and to maximize personal freedoms." Today, David has links to the tea party.
The richest man in New York, David is best known for his political and philanthropic activities and sits on 25 not-for-profit boards.
Generated by readers, the comments included herein do not reflect the views and opinions of Rigzone. All comments are subject to editorial review. Off-topic, inappropriate or insulting comments will be removed.