Total's N. Sea Chief Slams Possible EU Regulation of Offshore Drilling
by Alexis Flynn
|
Dow Jones Newswires
|
Thursday, November 17, 2011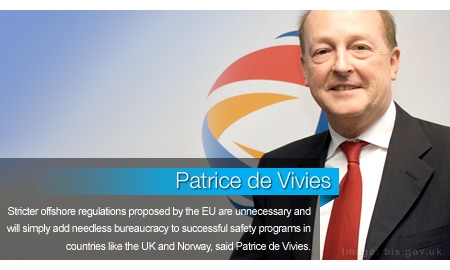 LONDON (Dow Jones Newswires), Nov. 17, 2011
Stricter offshore regulations proposed by the European Union are unnecessary and will simply add needless bureaucracy to successful safety programs in countries like the U.K. and Norway, Total's head of northern European exploration Patrice de Vivies said Thursday.
"Regulation is not the appropriate format, directives would be better," said de Vivies.
He added: "Standards in the U.K. are the best in the world and of course Norway" too.
EU lawmakers in October proposed sweeping changes to the regulation of offshore oil and gas production that would see pan-European standards introduced across the continent, a move aimed at preventing accidents in EU waters similar to the Gulf of Mexico oil spill last year.
De Vivies said it was understandable that the EU wanted to address the offshore issue after Macondo [the Gulf of Mexico well that exploded]. "Of that there is no doubt, but we think a directive is better than regulation because a company can adapt more easily." Directives require EU member states to achieve a particular end without dictating how they go about achieving it. As such, they are seen as giving countries more leeway than regulations.
According to the new proposal--which will have to be backed by the European Parliament and EU governments before becoming law--companies will have to submit to national authorities a plan on how they are ensuring safety for personnel and preventing environmental hazards.
They will also have to show that they would be ready to react to any emergency and have the necessary financial and technical capabilities to clean up in case of a major accident.
However, de Vivies said that the proposed changes risked simply adding another layer of bureaucracy to the process of safety management without having any discernible change on how companies strive to prevent accidents. He pointed to the fact that offshore drilling in Europe was primarily concentrated in the U.K. and Norway and that the standards that existed in those countries could be used as a benchmark for the rest of the continent.
"There are a limited number of countries [in Europe] that have offshore activity and we have to be careful to find the right solution--with the most competent people, with the best standards. We have no problem with extending the best practice [in Norway and the U.K.] to the rest of Europe but it should come in a way that does not jeopardize what already exists in those two countries," he said.
Copyright (c) 2011 Dow Jones & Company, Inc.
Generated by readers, the comments included herein do not reflect the views and opinions of Rigzone. All comments are subject to editorial review. Off-topic, inappropriate or insulting comments will be removed.
RELATED COMPANIES