First Movers in 'Green' Drilling: Low-Footprint Rigs
by Barbara Saunders
|
Rigzone Staff
|
Thursday, November 17, 2011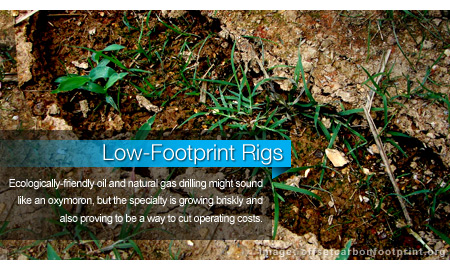 Ecologically-friendly oil and natural gas drilling might sound like an oxymoron, but the specialty is growing briskly and also proving to be a way to cut operating costs.
One of the hot newer developments is the low "footprint" rig, increasingly automated, to take up less land space, transport more easily, use less energy and require smaller crews.
"This has been a wonderful and fulfilling journey for all of us, as we have added to our team some leaders from a variety of disciplines with one mission," said Tom Williams, senior advisor to the Environmentally Friendly Drilling Systems (EFD) program, an effort of the Houston Advanced Research Center (HARC) and Texas A&M University (TAMU). "Our funding comes from industry, the Research Partnership to Secure Energy for America (RPSEA) and other organizations who realize that collectively we can make a difference."

Williams originally became involved with low-footprint rigs when he was vice president of technology for Noble Drilling Technology Services.
"We (Noble and Anadarko) drilled the first dedicated gas hydrate well in the US on the North Slope – one of the most environmentally sensitive areas in the world. We used a platform and many creative methods to reduce our footprint. When we finished, you could not tell we had been there," Williams said.
Today, the low-footprint rig movement is beginning to take off commercially. Rigs operating in at least eight countries show strong environmental and economic results.
"Our program has shown that … we can reduce the traffic (these new rigs have half the number of loads) and use fewer people to rig up; they are less of a mess to clean up; they do less damage to the roads, they are quieter, have lower emissions, lower profile (especially the super singles), and less down time," EFD's Williams added.
Rigs in Use
National Oilwell Varco's (NOV's) Rapid Rig is one example. Deployed today in West Texas, Brazil, Argentina, India, Columbia, Mexico, Venezuela, and California (geothermal), this is a full AC-powered rig and comes with some automation that can make drilling safer and more efficient.
"The physical presence of a drilling rig can interrupt the natural flow of any environment and it is critical to develop rigs that have limited impact and technologies that can help reduce the amount of moves or loads that need to be transported in any given field," said Natalie Wagner, an environmental engineer in the area of environmental innovation for NOV's corporate technology resource team. "If we can reduce the crew, we also reduce the trucks required to transport staff on and off the rig."
Netherlands-based Huisman is also active in developing small-footprint rigs.
"The small footprint was originally meant to reduce site costs, to reduce environmental impact of site construction, and to allow the rigs to work in locations where others simply cannot," said Eric Quinlan, Huisman's product manager for land drilling. "In combination with the containerized construction of the rigs, the rig can also be transported over smaller roads with lower weights, which further allows us to access areas that other rigs cannot reach. The original intent of the rigs was also to allow them to be used on platforms, which further pushed us to shrink the footprint."
"Through the rig development and the product development for the LOC 400, we have always been upgrading the controls of the rigs to make them more and more automated," Quinlan continued. "Our original goals with the automation were both to increase safety on the rig, but also to allow for a more consistent performance. The automation on the rigs allows for consistent top performance simulating what the best drillers can do. The rig automation is a continuing process and right now we are concentrating on full automation of surface equipment."
An American Association of Drilling Engineers paper by Quinlan and Robert van Kuilenburg of Huisman, Williams of EFD-US and Gerhard Thonhauser of EFD-Europe found significant environmental advantages of Huisman rigs. These included:
Transporting the standard rig 'high case' caused the emissions of more than two times as much CO2 as containerized rigs. Compared to a diesel passenger car traveling 25,000 km per year, the CO2 emissions from transporting the containerized rig design by truck is the same as about 8.9 diesel passenger cars. "Train transport might be considered for environmentally friendly drilling rigs as an interesting option," the authors noted. "In principle, one train would be sufficient to transport an entire rig. Transporting the rig with a train would have a significant beneficial effect on the CO2 emissions."
Using electricity from the grid resulted in around 39 percent less CO2 emissions compared to using diesel generators in the Netherlands. "Should the grid be powered by renewable energy sources (wind, geothermal, solar), the emissions would be reduced to next to zero. This reduction of emissions does not include the emissions that would have been eliminated by not having to supply fuel to the rig site."
Powering the rigs from the grid, rather than diesel generators, also significantly reduced noise, making the rigs more suitable for projects in densely populated areas.
The paper also showed considerable economic advantages from the "low footprint" rig. For example: "Connecting the rig to the power grid also has a significant cost benefit for a typical well. Cost savings for a typical well can go up to 50 percent or more on fuel cost with the current energy price mix."

An average rig uses 21,000 gallons of fuel for a 10-day program, the authors noted. Assuming 30 wells a year and a 10 percent efficiency gain equates to a savings of $4,700 well or $142,000/year. Theoretically, using different drilling techniques and running from the power grid, a savings of $26,000 should be feasible, the paper said.
"This is more than a day's rig hire in fuel savings per well," the authors said.
Huisman's rigs are operated in the US by Innodrill, a Houston-based company formed this year to promote automated drilling, safety and cost-effectiveness.
Generated by readers, the comments included herein do not reflect the views and opinions of Rigzone. All comments are subject to editorial review. Off-topic, inappropriate or insulting comments will be removed.