Emerald Aims to Restart Colombia Oil Operations Amid Security Woes
by Dan Molinski
|
Dow Jones Newswires
|
Thursday, November 17, 2011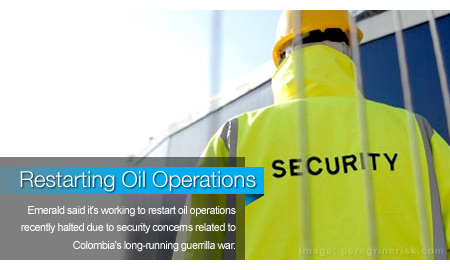 BOGOTA (Dow Jones Newswires), Nov. 17, 2011
The Chinese-owned Colombian unit of Emerald Energy said Thursday it's working to restart oil operations recently halted due to security concerns related to Colombia's long-running guerrilla war.
Carlos Bolanos, the oil firm's general manager in Colombia, said the company, which produces a relatively small 600 barrels a day at the Capella field that it operates in the southern state of Caqueta, hopes operations will restart "as soon as possible.
"The situation in Caqueta is complex in terms of security and we're working hand in hand with the government to be able to reinitiate operations," Bolanos said in an email.
Local media reported Wednesday that U.K.-based Emerald, whose assets in Colombia and Syria were bought by China's Sinochem in 2009, had temporarily suspended operations until the Colombian government could provide more guarantees that the company would be safe from attacks, kidnappings and other actions by illegal armed groups.
Marxist rebels have been waging war with Colombia's government for nearly 50 years and foreign oil companies are one of their favorite targets. In recent months, rebels have forced several oil tanker trucks off the road and blown them up.
Emerald officials have publicly voiced concerns over a lack of security on highways where truckers transport the firm's heavy crude oil from drilling sites to shipping ports. A few trucks in recent months have been forced off the road by rebels, who then blew up the trucks by shooting the oil tanks with automatic weapons.
Also, in June, four Chinese workers with Emerald were kidnapped by the rebel Revolutionary Armed Forces of Colombia, or FARC. Those workers remain in rebel hands.
Colombia Mines and Energy Minister Mauricio Cardenas said Wednesday that operations at Emerald Energy were normal, denying the media reports that said the company suspended operations. It wasn't immediately possible to reconcile his comments with those of Bolanos. Officials at the government ministry weren't available.
Copyright (c) 2011 Dow Jones & Company, Inc.
Generated by readers, the comments included herein do not reflect the views and opinions of Rigzone. All comments are subject to editorial review. Off-topic, inappropriate or insulting comments will be removed.
RELATED COMPANIES