Chesapeake Plans Oilfield Service Co Spin-Off in 2012
by Ryan Dezember
|
Dow Jones Newswires
|
Thursday, November 17, 2011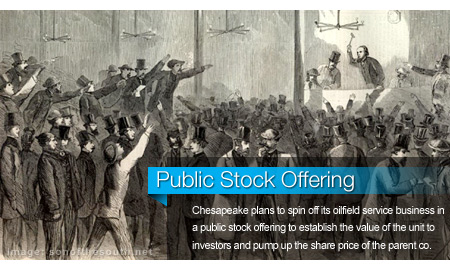 NEW YORK (Dow Jones Newswires), Nov. 17, 2011
Chesapeake plans to spin off its oilfield service business next year in a public stock offering to establish the value of the unit to investors and pump up the share price of the parent company, Chief Executive Aubrey McClendon said in an interview Wednesday.
Chesapeake recently installed a management team for the collection of service businesses it has built over the years and plans to retain a majority stake--perhaps around 80%--in the company after it goes public, McClendon said on the sidelines of Stephens Fall Investment Conference.
Chesapeake will retain control of the service company's board and will hold onto as much stock as it can while allowing a liquid market for the public shares, he added. Also, McClendon said, the company will continue to work primarily for Chesapeake, which is the most active driller in the U.S.
"Their job is to make one customer happy," he said. "It doesn't matter if we own 80% or 100%."
McClendon said he thinks Chesapeake Oilfield Services LLC is worth as much as $10 billion, but doesn't believe that investors are currently valuing Chesapeake's stock accordingly. Putting shares--under the planned ticker symbol COS--on the open market will prove the business' value and should pump up the parent company's stock price.
Chesapeake shares closed fractionally lower Wednesday at $25.46.
The public offering is part of a flurry of deals McClendon has planned for 2012.
The Oklahoma City oil and natural gas producer also aims to shed its 30% stake in Frac Tech Services Inc., an oilfield services firm planning to go public, and Oklahoma oil producer Chaparral Energy Inc. McClendon expects those sales, along with the IPO sale, to net about $3 billion.
Chesapeake also plans to create more joint ventures by selling stakes in oil fields in North Dakota and the Mississippi Lime formation in northern Oklahoma and southern Kansas, as well as potentially in an undisclosed area where Chesapeake is spending "a very modest amount of capital" to lease property.
Joint ventures play a central role in Chesapeake's business plan. The company finds and secures drilling rights in shale fields and then sells minority stakes in the acreage to help pay for drilling.
The company has inked seven such pacts since 2008, bringing back proceeds totaling more than $16 billion. Most recently, Chesapeake said it has a signed letter of intent to sell a 25% stake in 650,000 acres in eastern Ohio to an undisclosed international energy company.
Copyright (c) 2011 Dow Jones & Company, Inc.
Generated by readers, the comments included herein do not reflect the views and opinions of Rigzone. All comments are subject to editorial review. Off-topic, inappropriate or insulting comments will be removed.
RELATED COMPANIES