PEMEX Starting to Test Mexico's Untapped Shale Resources
by Karen Boman
|
Rigzone Staff
|
Wednesday, November 16, 2011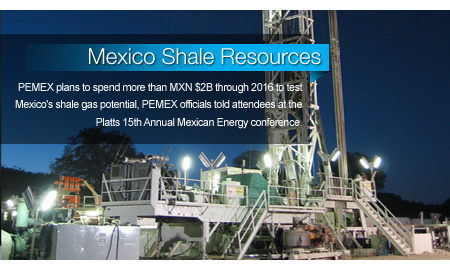 Mexico's state energy monopoly PEMEX will gather 10,000 square kilometers of 3D seismic data, drill more than 150 wells and spend more than MXN $2 billion through 2016 to test Mexico's shale gas potential, PEMEX officials told attendees at the Platts 15th Annual Mexican Energy conference in Houston on Wednesday.
PEMEX is focusing on five areas of Mexico in its shale exploration efforts: Chihuahua, Salinas-Burgos-Picachos, Burgos, Tampico-Misantla, and Veracruz, said Luis Ramos, assistant director of planning at PEMEX. All focus areas except Tampico and Veracruz are extensions of the Eagle Ford shale play. PEMEX reported encountering good porosity at the 1,600 meter interval of the Montanes-1 well. The company will next drill the Nomada and Percutor wells.
Natural Gas to Play Greater Role in Mexico's Energy Supply Mix
While Mexico's crude oil production has been declining, associated and non-associated natural gas production has been rising in recent years, partially due to reduced venting of gas.
Natural gas is expected to play a greater role in meeting Mexico's energy needs as the nation's government seeks to reduce Mexico's greenhouse gas emissions by 30 percent in the year 2020. To meet this goal, eight new gas pipelines totaling 4,774 kilometers are under development at a cost of US $10.5 billion. The deadline for these pipelines being ready is 2018.
The U.S. Energy Information Administration has estimated Mexico to have substantial shale gas resources of 681 Tcf, 10 times greater than Mexico's estimated conventional 3P reserves. However, it will take time before commercial production from Mexico's shale plays are brought online.
The North American shale gas boom represents an exciting opportunity for Mexico in that ample shale gas supply and low U.S. gas prices could allow Mexico to cheaply import U.S. gas, said Lourdes Melgar, director for the center of business sustainability at Egade Business School in Monterrey, Mexico.
South Texas' Eagle Ford shale play just across the U.S.-Mexico border would seem the logical choice for exports to Mexico. However, producers drilling in South Texas have shifted their focus towards the rich gas and liquids Eagle Ford window and away from dry gas. Conventional gas production in South Texas also has declined in recent years.
However, shale gas production from other plays such as the Haynesville and Barnett shale plays could be diverted to Mexico to meet gas demand there, said Tony Chovanec, vice president of fundamentals/strategic assessment at Enterprise Products Partners. "Ample capacity exists for the export of Eagle Ford gas, should the markets dictate."
Chovanec expects the U.S. shale boom and low U.S. gas prices to create expansion opportunities in the U.S. fertilizer, ammonia, steel, wood, paper and petrochemical industries as cheap ethane and natural gas liquids provide these industries with a competitive edge versus other countries. Other U.S. industries likely to benefit from the abundance of cheap natural gas liquids include the automobile and the manufacturing industries.
Deepwater E&P Faces Challenges in Expertise, Boundary Disputes
PEMEX's shale exploration represents a small percentage of its E&P efforts as the company is focused on several areas, including exploration of the deepwater Gulf and seeking to reverse Mexico's oil production decline in recent years.
Significant portion of Mexico's prospective reserves lie in the deepwater Gulf. However, PEMEX's lack of experience in deepwater drilling and technological challenges must be addressed in order to boost production, said Melgar.
Territorial issues also must be addressed. While a treaty between the U.S. and Mexico was ratified in 1980 to align boundary rights in the Western Gap of the Gulf, a treaty between the U.S., Mexico and Cuba still must be agreed upon for the Eastern Gap near the Escarpe de Campeche. If a treaty is not ratified for this area, the Eastern Gap in 2013 will become open to activity internationally.
The Eastern Gap of the Gulf represents an area between the continental shelf that extends 200 nautical miles from Cuba, 200 nautical miles from Mexico and 200 nautical miles from the U.S.
Transboundary fields likely exist in the western Gulf between the Western Gap and the U.S.-Mexico coastlines, said Melgar, making it likely that PEMEX would work together with other companies to explore for and produce oil and gas.
Generated by readers, the comments included herein do not reflect the views and opinions of Rigzone. All comments are subject to editorial review. Off-topic, inappropriate or insulting comments will be removed.
RELATED COMPANIES