Salazar: Fracking Regs Meant to Support Shale Gas
by Andrea Mooney & Saaniya Bangee
|
Rigzone Staff
|
Wednesday, November 16, 2011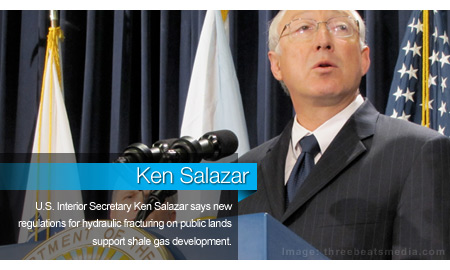 Regulations for hydraulic fracturing on public lands were not fully revealed during a House Natural Resources committee hearing Wednesday, but Interior Secretary Ken Salazar confirmed three focal points of the regulations.
"It's one, disclosure, two, well bore integrity and three, what happens with respect to flowback water," Salazar said.
The Obama Administration is expected to release new regulations in early 2012 that would place new restrictions and transparency requirements on the use of hydraulic fracturing in the production of natural gas.
According to the Bureau of Land Management, nine out of 10 wells drilled on 700 million acres of public land would be affected by the new regulations.
Opponents say new regulations will decrease exploration and drilling in the U.S., costing Americans jobs and increasing America's dependence on foreign oil.
"The President's plan is to simply say 'no' to new energy production and 'no' to new American jobs created by new offshore drilling. It's a plan that is sending American jobs overseas, forfeiting new revenue, and denying access to American energy that would lessen our dependence on hostile Middle Eastern oil," Natural House Resources Committee Chairman Doc Hastings said in a statement released before the hearing on Obama's plan.
But Salazar believes the new fracking regulation could boost consumer confidence in natural gas.
"Our program we're putting on the table is not meant to impede shale gas, it's meant to support shale gas," Salazar said.
Salazar said listening to local communities and their concerns regarding air and water contamination is important to the administration and is attempting to address the concern before opposition curtails the practice.
The Subcommittee on Water Resources and Environment also received testimony Wednesday morning from federal and state regulators, and industry representatives on regulatory approaches to the hydraulic fracturing of shale beds.
In the hearing led by Subcommittee Chairman Bob Gibbs, officials discussed fracking's impact on clean water and air, whether local municipalities, the state or federal government should set regulations, and how much the difference in geography across the U.S. plays a role in the development of regulations.
"A one-size fits all approach is not appropriate because the geography varies from state to state," Oklahoma Corporation Commission Chair Dana L. Murphy said.
Industry representatives questioned the Environmental Protection Agency's (EPA) recent announcement to implement additional regulations for fracking-related wastewater under the Clean Water Act.
Gibbs is concerned about unnecessary industry regulations based on unsubstantiated cases of groundwater contamination due to fracking, a process that has been used in the United States since the early 20th century.
Generated by readers, the comments included herein do not reflect the views and opinions of Rigzone. All comments are subject to editorial review. Off-topic, inappropriate or insulting comments will be removed.