Brazil Oil Workers To Review Possible Strike
by Tom Murphy
|
Dow Jones Newswires
|
Wednesday, November 16, 2011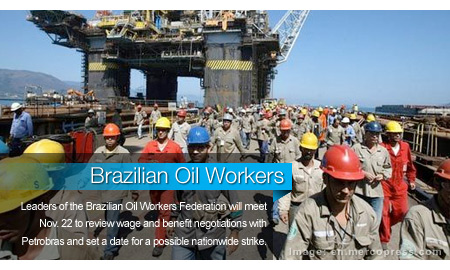 SAO PAULO (Dow Jones Newswires), Nov. 16, 2011
Leaders of the Brazilian Oil Workers Federation will meet in Rio de Janeiro on November 22 to review wage and benefit negotiations with state-run energy company Petrobras and set a date for a possible nationwide strike, a union spokeswoman said Wednesday.
"Union leaders have rejected the latest offer from Petrobras and union locals are currently voting on that recommendation," said spokeswoman Caroline Cavaca in a telephone interview. "Of the 27 locals, four have completed voting so far and all four have endorsed the recommendation. The other locals will complete voting in time for the November 22 meeting of the federation's board of directors."
A spokesman for Petrobras had no immediate comment on the possibility of a strike.
In a statement, Petrobras said its latest offer to the union "included various advances, including offers in areas such as health, security and working conditions."
Petrobras is offering an average wage hike of 10.7%, while the union is demanding 17%. Brazilian inflation is currently running at 7%. Union leaders have said they also want improved benefits and beefed up job safety rules. The federation represents 60,000 oil workers.
Cavaca said the trend was for all 27 locals to reject Petrobras' latest offer. "In that case, the board of directors on November 22 will set a date for a nationwide strike," she said.
Copyright (c) 2011 Dow Jones & Company, Inc.
Generated by readers, the comments included herein do not reflect the views and opinions of Rigzone. All comments are subject to editorial review. Off-topic, inappropriate or insulting comments will be removed.
RELATED COMPANIES