API: BOEM Plan May Place Substantial O&G Resources Out of Reach
by Karen Boman
|
Rigzone Staff
|
Tuesday, November 15, 2011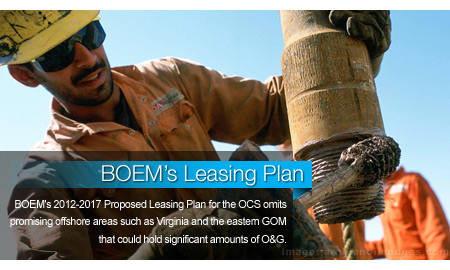 The Bureau of Energy Management's (BOEM's) 2012-2017 Proposed Leasing Plan for the Outer Continental Shelf (OCS) "maintains the status quo" for U.S. energy policy, and omits promising offshore areas such as Virginia and the eastern Gulf of Mexico that could hold significant amounts of oil and gas, an official with the American Petroleum Institute (API) said Tuesday.
Taking large portions of the OCS off the table for exploration and production cuts off access to what could be substantial oil and gas reserves that could greatly benefit the U.S. economy and energy security, said Erik Milito, API's group director of upstream and industry operations.
"We agree with the government's goal of expanding safe and responsible production, and we're ready to work with them," Milito commented.
However, limiting offshore exploration and production could limit future job growth, tax revenues and future oil production.
"We need to do the right things today to meet energy demand tomorrow," Milito said.
Milito also criticized leasing terms under the new plan, which would shorten the length of leases and raise minimum bids. Shortening lease terms to five or seven years will discourage leasing for deepwater blocks, which take a longer amount of time to develop.
The recently announced Western Gulf of Mexico Lease Sale 218, scheduled for Dec. 14 and the first lease sale to be held since the Macondo incident, has a revised initial period for lease terms for blocks in water depths of 400 meters to less than 1,600 meters and a increased minimum bonus bid for blocks in water depths of 400 meters or greater.
President Obama last week unveiled the five-year plan, which would open up areas of the Arctic and Gulf of Mexico for future leasing. However, access to leasing in the Atlantic and Pacific oceans is blocked under the five year plan.
Secretary of the Interior Ken Salazar said the leasing program would make more than 75 percent of undiscovered, technically recoverable oil and gas resources estimated in federal offshore areas available for exploration and development.
However, the data used to create the leasing program is from the 1970s, Milito noted. Basing the five year plan on old data "puts us in a Catch 22" in that areas omitted may hold reserves that are now technically recoverable.
"We need to get out there and see what's out there, because we won't know until we actually drill. Historically, the more we look, the more oil and gas we find, and as technology improves, the amount of recoverable oil increases," Milito commented.
While U.S. oil and gas production has grown in recent years thanks to the shale oil and gas exploration and production, conducted on private lands in Texas, North Dakota and other U.S. states. However, Milito added "we still need a robust plan for offshore as well as BLM lands."
Some companies have expressed interest in gathering seismic data offshore Virginia, and answer the million dollar question as to what reserves exist offshore Virginia and other areas. However, applications to conduct seismic offshore Virginia are being held up, even though the state's governor and other officials support offshore drilling there, Milito said.
BOEM said that the Atlantic region was not included in the proposed program due to lack of exploration and production infrastructure, and potentially conflicted uses of the area offshore Virginia, including the Department of Defense. BOEM said it planned to conduct a programmatic Environmental Impact Statement relating to seismic surveys in the Atlantic.
The agency also said that the exclusion of the Pacific coast from the leasing program was consistent with state interests, as framed in an agreement that the governors of California, Oregon and Washington signed in 2006, in which they expressed opposition to oil and gas development off their coasts.
Milito said that the state's wishes must be taken into consideration, but that ultimately, the long-term energy outlook must be considered, noting that significant crude oil reserves lie offshore California and close to existing production infrastructure.
Generated by readers, the comments included herein do not reflect the views and opinions of Rigzone. All comments are subject to editorial review. Off-topic, inappropriate or insulting comments will be removed.