Rear Admiral Watson to Replace Bromwich
by Saaniya Bangee
|
Rigzone Staff
|
Monday, November 14, 2011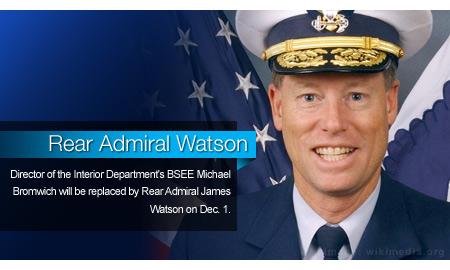 Secretary of the Interior Ken Salazar has named Rear Admiral James A. Watson IV as Director of the Interior Department's Bureau of Safety and Environmental Enforcement (BSEE). Watson will succeed Michael R. Bromwich starting Dec. 1.
Watson was named Federal On-Scene Coordinator in the 2010 Deepwater Horizon incident. Currently, Watson is Director of Prevention Policy for Marine Safety, Security and Stewardship at the Coast Guard headquarters in Washington, D.C.
"Admiral Watson will bring to the job a distinguished record, a commitment to tough and fair-minded enforcement, and the determination to advance our reform agenda for the benefit of the American people and industry," said Secretary Salazar in a statement.
Bromwich was chosen to lead the Bureau of Ocean Energy Management, Regulation and Enforcement (BOEMRE), previously named the Minerals Management Service (MMS), in June 2010. Bromwich will continue on as a counselor through the month to ensure a smooth transition in leadership.
"With Director Bromwich's leadership, commitment to public service, and focus on delivering results, we implemented the most significant reforms to offshore oil and gas safety in U.S. history, while continuing to take steps to safely and responsibly expand domestic energy production," concluded Secretary Salazar.
The Obama administration struggled to find a replacement due to the political spotlight that followed Bromwich. Bromwich told reporters in September that "qualified candidates specifically said they didn't want any part of the politics that came with [the position]."
Generated by readers, the comments included herein do not reflect the views and opinions of Rigzone. All comments are subject to editorial review. Off-topic, inappropriate or insulting comments will be removed.