BHP Billiton to Spend $4.5B On US Shale This Year
by Robb M. Stewart
|
Dow Jones Newswires
|
Monday, November 14, 2011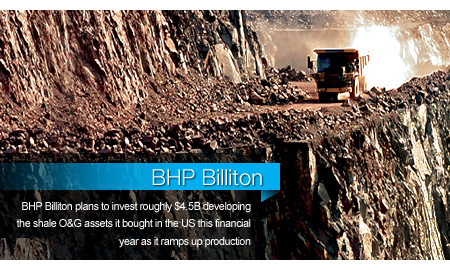 MELBOURNE (Dow Jones Newswires), Nov. 14, 2011
BHP Billiton plans to invest roughly US $4.5 billion developing the shale oil and gas assets it bought in the U.S. this financial year as it ramps up production, the head of the mining company's petroleum division said Monday.
BHP expects capital spending to jump to almost US $6 billion in the 2015 fiscal year and roughly US $6.5 billion by 2020 as the company ramps up the number of rigs on its four project areas, Michael Yeager said in a conference call from Melbourne.
BHP spent almost US $17 billion this year buying Petrohawk Energy Corp. along with its assets in Texas and Louisiana and Chesapeake's Fayetteville shale assets in Arkansas.
Yeager, who defended the hydraulic fracturing or "fracking" technology used to extract hydrocarbons from deep shale deposits, said BHP is targeting U.S. shale production of 90 million barrels of oil equivalent in the year through June or about 250,000 BOE a day. He said he expects this to reach 600,000 BOE a day in fiscal 2015 and 1 million by 2020.
BHP has targeted 225 million BOE this year from all its petroleum operations, including wells in the Gulf of Mexico and elsewhere. The figures don't include prospective oil shale projects in the Permian Basin in Texas acquired with Petrohawk and where Yeager said BHP is still actively expanding.
Yeager said shale is forecast to account for half of U.S. gas production by 2020 and is an opportunity for the U.S. to secure energy supplies. Although he acknowledged concerns over fracking technologies globally and its potential impact on the environment, shale continues to gain acceptance, he said.
Copyright (c) 2011 Dow Jones & Company, Inc.
Generated by readers, the comments included herein do not reflect the views and opinions of Rigzone. All comments are subject to editorial review. Off-topic, inappropriate or insulting comments will be removed.