Nabors' Chairman Jet Use Gets SEC Attention
by Karen Boman
|
Rigzone Staff
|
Friday, November 11, 2011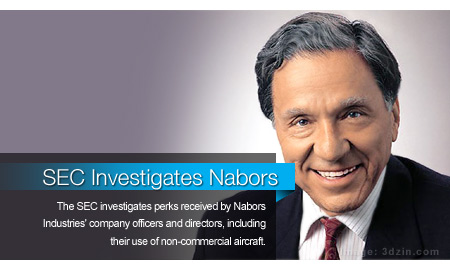 The U.S. Securities and Exchange Commission (SEC) is investigating the perks received by Nabors Industries Chairman Eugene Isenberg and the company's officers and directors, including their use of non-commercial aircraft.
Oil drilling contractor Nabors disclosed the SEC inquiry in a regulatory filing made Nov. 9. The Bermuda-based company received an informal inquiry from the SEC on Sept. 21.
The Wall Street Journal reported that, under SEC rules adopted in 2006, companies generally must annually disclose the cost of executives' personal use of corporate planes if it exceeds either $25,000 or 10 percent of the cost of all perks.
A company spokesperson previously had said that the company was in compliance with all IRS guidelines and SEC disclosure requirements in regards to executives' use of company aircraft. Federal Aviation Flight records had shown Nabors' jets making frequent stops in Palm Beach, Fla., and Marthas Vineyard, Mass., where Isenberg has homes.
Isenberg received US $100 million for relinquishing his role as CEO; he remains chairman of Nabors' board of directors. Anthony Petrello was appointed the company's new CEO in October.
A clause in Isenberg's contract entitles him to a $100 million payout under a number of scenarios, including his removal as either CEO or chairman, even though Isenberg is not leaving the company.
Generated by readers, the comments included herein do not reflect the views and opinions of Rigzone. All comments are subject to editorial review. Off-topic, inappropriate or insulting comments will be removed.
RELATED COMPANIES