ExxonMobil May Lose Other Iraq Oil Contract On Kurdish Deal
by Hassan Hafidh and James Herron
|
Dow Jones Newswires
|
Friday, November 11, 2011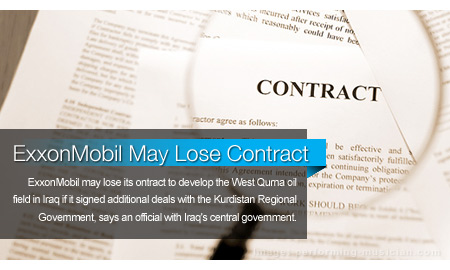 LONDON (Dow Jones Newswires), Nov. 11, 2011
The Iraqi government said Friday Exxon Mobil Corp. (XOM) could lose its current contract to redevelop the giant West Qurna oil field if it proceeds with an agreement to explore for oil in the Kurdish region of the country.
The spat highlights the political challenges for foreign companies operating in Iraq and threatens to further inflame tensions between the Baghdad government and the semi-autonomous Kurdish region, who have long disputed the right to grant oil licenses.
It also represents a clear risk for Exxon Mobil, which is struggling, like other giant oil companies, to get access to new oilfields large enough to replace the vast amount of oil it produces from its reserves. Exxon's operations in Iraq are a critical toehold in a country that could soon become one of the world's largest producers of oil.
"Exxon should choose between either continuing with its deal with the Kurdistan Regional Government or lose its contract in southern Iraq," Abdul Mahdi al-Ameedi, head of petroleum contracts and licensing directorate at Iraq's Oil Ministry, said in an interview with Dow Jones Newswires.
ExxonMobil has signed agreements to explore for oil and gas in six blocks in the Kurdish region of Iraq, Michael Howard, communications adviser to the resources minister of the Kurdistan Regional Government, told Dow Jones Newswires. ExxonMobil declined to comment.
Exxon, the world's largest oil company, has a reputation of playing conservatively; that it seems to be in the middle of a big dispute endangering a key contract puzzled some analysts. "It does seem a bit out of the ordinary for Exxon," said Phil Weiss, an analyst with Argus Research.
A number of smaller foreign companies already produce oil in Iraq's Kurdish region, but ExxonMobil is the first of the major international oil companies to reach such an agreement.
The KRG is embroiled in a long and often contentious dispute with Iraq's central government over oil licenses issued to foreign companies. The dispute has periodically caused the disruption of oil exports from the Kurdish region.
Iraq's central government sent ExxonMobil three warning letters before it signed its deal to explore for oil and gas with the KRG, al-Ameedi said. "The letters stressed that, according to regulations of the central government, any company which signs deals with the KRG wouldn't be allowed to work in the center and south of the country," he said.
"We are not going to give Exxon a long time to decide," he said. "This is very sensitive issue and companies working in southern Iraq such as BP, Lukoil, Shell are watching the situation closely."
ExxonMobil is already producing about 370,000 barrels a day of oil from the West Qurna field in southern Iraq, under a service contract with the Baghdad government. Many other large oil companies, including BP PLC (BP, BP.LN), Royal Dutch Shell PLC (RDSB.LN, RDSA), Eni SpA (E, ENI.MI) and Lukoil Holdings (LKOH.RS, LUKOY) have similar contracts to redevelop aging oil fields.
These contracts have helped Iraq increase its oil output to around 2.7 million barrels a day in recent months, compared with 2.4 million barrels a day a year ago. They haven't been especially lucrative for the companies, who receive a nominal fee of a few dollars for each extra barrel of oil they can produce. But the contracts are seen as an entry point into one of the world's most promising oilfields, and leading to "bigger and better things," says Argus Research's Weiss.
Al-Ameedi said the KRG has approached other companies operating in southern Iraq, without naming the companies. KRG communications adviser Howard denied this.
A spokesman said BP isn't talking to the KRG about similar deals. "We're quite happy with what we've got in Iraq, namely our commitment to developing Rumaila, the fourth-largest oil field in the world," the spokesman said.
Shell declined to comment.
Iraq's council of ministers is expected to meet immediately after the Muslim Eid holiday to decide whether ExxonMobil's existing contract to develop the super giant West Qurna oil field remains valid, al-Ameedi said.
(Alexis Flynn in London and Angel Gonzalez in Houston contributed to this article.)

Copyright (c) 2011 Dow Jones & Company, Inc.
Generated by readers, the comments included herein do not reflect the views and opinions of Rigzone. All comments are subject to editorial review. Off-topic, inappropriate or insulting comments will be removed.