O&G Companies Pushing E&P Limits with Nanotechnology
by Karen Boman
|
Rigzone Staff
|
Monday, November 14, 2011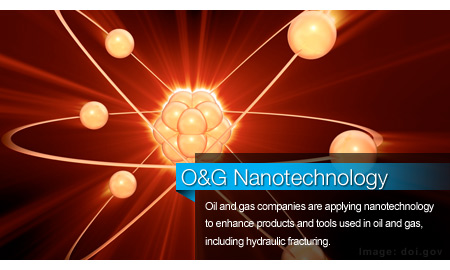 Nanotechnology, the study of manipulating matter on an atomic or molecular scale and developing materials, devices or structures possessing nanomaterials, has been used in the medical, automotive, aerospace and textile industries.
Now, oil and gas companies are seeking to apply nanotechnology to enhance products and tools used in oil and gas, including hydraulic fracturing, where the growing number of zones typically fractured pushes the performance limits of fraccing applications.
While some technology applications such as nano-robotics might be a pipe dream, oil and gas companies are now looking at nanotechnology applications for material science to push the constraints that heavier, bulkier structures and tools put on oil and gas exploration and production and to address rising oil and gas exploration and production costs, said Matt Bell, president and CEO of GEODyanmics, a Millsap, Texas-based developer of perforating technologies.
Besides shale gas proppants, where nano-size pores require proppants to more efficiently produce hydrocarbons, nanotechnology can increase the strength to weight ratio of tubulars, and prevent abrasion and corrosion of equipment with coatings and alloys developed from nanotechnology.
It can also be used to address the challenges of reservoir monitoring, according to Bell and a panel of experts at the research and development section luncheon at the Society of Petroleum Engineers (SPE) Annual Technical Conference and Exhibition (ATCE) in Denver earlier this month.
Saudi Aramco also is pursuing nanotechnology applications for use in reservoir agents. "We want single, effective, scalable solutions that we can take to the field as quickly as possible," said Howard Schmidt, nanotechnologist at Saudi Aramco. Fluorescence A. Dots, which are used to map well connectivity and allow Saudi Aramco to know what injector well is contributing water. Magnetic nano-mappers have also been field tested on a small scale, with larger scale field tests to be conducted late in 2012.
Research findings into the use of nanostructured materials and nanoparticles in the hydraulic fracturing process also were presented at the SPE conference last month. One paper detailed the successful use in the Bakken shale play of a newly-developed nanostructured material technology called controlled electrolytic metallics (CEM), which has higher strength than conventional steel and disintegrates in-situ downhole.
More than 200 CEM balls had been used in multistage fracturing systems in the Bakken shale field; all successfully performed their fluid control functions and were disposed of by dissolution with wellbore fluids without need for additional intervention operations.
Baker Hughes' FracPoint system, a multi-stage completion system that uses openhole packers to isolate multiple stages and ball-activated sleeves to divert frac treatments, now features IN-TALLIC disintegrating frac balls, which are made of a new nanomaterial developed by the company's nanotechnology scientists.
The higher temperatures and pressures associated with challenging onshore and offshore oil and gas reservoirs push the boundaries of what existing oil and gas technology can do.
"As the number of zones being fractured in wells increases, we've started to reach the limit on how much pressure can be applied," said Rustom Mody, vice president of technology at Baker Hughes.
To address this issue, Baker Hughes' center for technology developed IN-TALLIC, a material with the compressive strength of steel, but is lighter than aluminum. The balls were developed to disintegrate in most common wellbore and fracturing fluids, so no special fluid mixture is required, enabling operators to removing frac balls from a well without having to mill them out.
The disintegrating frac balls also ensure that there are no balls are blocking production due to differential pressure between zones. They also prevent the formation of a debris barrier caused by a fracturing ball pile-up.
Mody told Rigzone that the IN-TALLIC material could potentially be applied for use in other products for both onshore and offshore oil and gas operations.
However, oil and gas companies also must be willing to invest in research and development into new technologies. "We make progress in R&D, but then we eat our own young," said Bell "We need entrepreneurs who are willing to invest and get nanotechnology from the research institutes to commercial application."
Bell used an analogy involving pandas to explain the situation. Pandas have been known to eat their own young; Bell likened the situation to a service company shelving an emerging technology because it was too disruptive.
Mody noted that long-term commitment and discipline is required to developing nanotechnology applications for oil and gas. Because of the risk involved, some companies are reluctant to be the first involved. Baker Hughes has worked closely with companies willing to find applications for nanotechnology.
"It's about creating value for clients, which at the end of the day is reducing non-productive time and making products more reliable and better performing," said Mody, noting that the potential for nanotechnology in oil and gas is wide open.
Baker Hughes and a number of oil and gas operator and service companies are participating in the Advanced Energy Consortium. The consortium is seeking to facilitate pre-competitive research in micro and nanotechnology materials and sensors that have the potential "to create a positive and disruptive change in the recovery of petroleum and gas from new and existing reservoirs."
Consortium members include Halliburton, Marathon Oil Corp., Shell, BP, Schlumberger and ConocoPhillips. The consortium's primary goal is to develop intelligent subsurface micro and nanosensors that can be injected into oil and gas reservoirs to help characterize the space in three dimensions and improve the recovery of existing and new hydrocarbon resources.
Generated by readers, the comments included herein do not reflect the views and opinions of Rigzone. All comments are subject to editorial review. Off-topic, inappropriate or insulting comments will be removed.