Ghana's O&G Resources Grow Production, Energy Exports
by Karen Boman
|
Rigzone Staff
|
Wednesday, November 16, 2011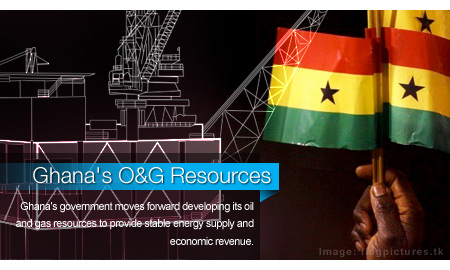 Well-known for its large mineral reserves -- including gold, diamonds, bauxite -- mining has long dominated the economy of the West African nation of Ghana. Thanks to the 2007 Jubilee oil and gas discovery, Ghana's government now seeks to develop its oil and gas resources to provide stable energy supply and economic revenue.
Ghana's Minister of Energy Dr. Joe Oteng-Adjei said in a speech in October that the country is set to become a major exporter of oil and power by 2012 and 2015 respectively. In addition to the Tullow Oil-operated Jubilee field, nine other discoveries have been made to date in Ghana and are being appraised, and additional leads have been identified and are being pursued.
As a result, Oteng-Adjei anticipates Ghana's future oil production to grow, with production having increased steadily from an average 45,000 bpd in January of this year to approximately 77,000 bpd of oil on average in August. Total 2011crude production between January and September was approximately 16.7 million barrels.
The national government is taking steps to build pipeline infrastructure to handle gas production offshore Ghana. In July, the nation's Deputy Minister of Energy Armah Kofi Buah reported that Ghana's parliament had approved the creation of the Ghana National Gas Company to oversee the transportation and development of infrastructure in the oil and gas. Buah said development of the country's gas resources would benefit the domestic market through power generation, fertilizer production and the petrochemical industry.
Ghana is also seeking to boost exploration in the Voltaian Basin, with the Ghana National Petroleum Corporation intending to gather approximately 1,700 km of 2D reconnaissance seismic data of the basin.
Ghana has faced criticism over awarding production contracts without legislation in place to manage oil reserves. The Revenue Watch Institute -- a non-profit policy institute and grantmaking organization promoting transparent and accountable oil, gas and mineral resource management for the public good -- noted that obstacles to transparency remain.
While the Ghana National Petroleum Corporation has offered a model contract and related laws available in CD-ROM format, this represents a technological barrier "and does not address the fundamental problem that actual contracts remain unavailable for comparison."
The previous government of John Kufour set up a separate, parallel inter-ministerial committee for oil, which reported directly to the president's office and was not related or accountable to the EITI management committee. The Revenue Watch Institute noted that current contracts for Tullow, Kosmos Energy and Anadarko were awarded through direct negotiation, not an open competitive bidding process.
"A key challenge for the government is to reconcile the gains and commitments made through the EITI process for the traditional mineral industries with the euphoria surrounding the Jubilee Field discovery," the organization said.
Oteng-Adjei said that the nation's government has taken steps to develop policy and legislative frameworks through "very transparent and truly participatory citizen's consultation processes, to the best of our ability."
Ghana was declared compliant with the Extractive Industry Transparency Initiative (EITI) in September 2010; the initiative also will cover Ghana's oil and gas sector. Membership also has been expanded in the multi-stakeholder steering group to allow for more participation by the energy industry and the public. The Ministry of Energy also will publish all existing and future petroleum agreements. EITI is a global standard for transparency in oil, gas and mining operations.
In 2010, the government submitted two bills to Parliament, the first addressing the governance of petroleum exploration and production in Ghana, including the relationship between the state and international oil companies, the second establishing two transparently operated oil funds to guard Ghana against economy volatility. The petroleum commission law was signed on Aug. 11 of this year; the revenue management bill was signed into law December 2010.
Mechanical Issues Limit Jubilee Production
While the resource estimate for the Jubilee field is unchanged, recent mechanical issues have limited production from the Jubilee's first phase of development. Operator Tullow said that the mechanical issues in some of the wells related to the design of the well completions.
"These issues are not unusual for a new field development of this type and remedial work is currently ongoing," Tullow said in a Nov. 9 operational update. "The J-07 sidetrack, currently under way, will incorporate a new completion design and is expected to be on stream in early 2012."
The resolution of these issues and the contribution of the Phase 1A wells will allow field production to ramp up to facility capacity later in 2012. The Jubilee Phase 1A Plan of Development is awaiting Government approval and drilling is scheduled to start in early 2012 with initial production commencing in the second quarter.
"The phased approach to field development will allow these wells to benefit from the new completion design," Tullow said.
The Jubilee field, which straddles the Deepwater Tano and West Cape Three Points licenses, is estimated to hold gas resources of approximately 800 Bcf and gross booked reserves of 490 million barrels of oil. The first development phase of Jubilee came online in fourth quarter 2010 at a cost of approximately US $3.3 billion to US $3.4 billion.
Tullow Updates Appraisal, Field Development Plans in Ghana
Appraisal activity continued on the Enyenra and Tweneboa fields, Tullow reported. In August, Tweneboa-4 was flow tested demonstrating good reservoir connectivity. In September, the Enyenra-3 well proved the up-dip extension to the Enyenra field and confirmed a continuous oil column of at least 1,197 feet.
The company has awarded FEED [front-end engineering and design] contracts for the subsea and FPSO [floating production, storage and offloading) vessel work-scopes for Enyenra and Twenboa. Upon successful conclusion of this work and the results from remaining appraisal activity, Tullow will submit a plan of development for Enyenra and Tweneboa during the first half of 2012.
The Teak-3 well in the West Cape Three Points license is expected to reach target depth later this month. Tullow also made a light oil discovery in August on the license with the Akasa-1 well. In July, Tullow encountered good quality reservoir with the Makore-1 exploration well; however, the reservoir was water bearing at this location.
Operators Line Up Drilling Plans for 2011 and Beyond
Tullow was scheduled last month to start drilling the Jubilee-7 and ST-1 wells at the Jubilee field with Ocean Rig semisub Eirik Raude (UDW Semisub) in approximately 4,100 feet of water, according to Rigzone's RigLogix Database. Drilling activity is expected to last through the end of November. Anadarko will next take the rig for drilling in mid-December, and is scheduled to have the rig until mid-May 2012.
Australia-based Tap Oil reported last month that it plans to drill one well in the third quarter of 2012 targeting gross unrisked mean potential reserves of more than 300 million barrels in its offshore Accra contract area. Tap, which is operator with 40.5 percent interest in the Accra contract area, considers Ghana to be a financially and politically stable regime, and believes the Accra contract area is prospective for oil and gas similar to Jubilee and other major recent discoveries.
Hess Corp. officials reported during their company's third quarter 2011 conference call that the company will use the Stena DrillMAX (UDW drillship) to drill at least three exploration wells during first quarter 2012 on its 90-percent owned deepwater Tano Cape Three Points Block offshore Ghana. Earlier this year, hydrocarbons were encountered in the Paradise 1 exploration well.
Generated by readers, the comments included herein do not reflect the views and opinions of Rigzone. All comments are subject to editorial review. Off-topic, inappropriate or insulting comments will be removed.
RELATED COMPANIES