PSA Focuses on Norway's Far North Tech, Ops Issues
by Karen Boman
|
Rigzone Staff
|
Thursday, November 10, 2011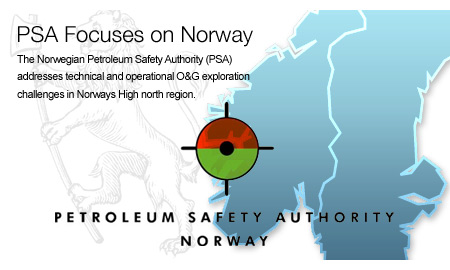 A report commissioned by the Norwegian Petroleum Safety Authority (PSA) has made a number of recommendations to address technical and operational issues that pose challenges to oil and gas exploration in Norway's High north region.
Prepared by the University of Stavanger and International Research Institute of Stavanger for PSA, the report aimed to study aspects of:
Health, Safety and Environment (HSE) in the Norwegian High North, and what is relevant to employees' working environment, health and life;
prevention of major accidents and near-miss incidents that could lead to a majoraccident;
rescue and evacuation in the event of a major accident; and
better risk management, including better understanding of risk, including factors such as weather, reservoirs and better standards.
"We've long seen at the PSA that discussions on operations in our northernmost and cold waters usually began with a debate on what's known or not known about conditions and challenges there," said Finn Carlsen, a director of supervision at the PSA. "We accordingly took the decision to bring together current knowledge held by the industry, the authorities and research institutes."
The report's findings also help debunk the myth that technological and safety challenges of operating in the High North's Arctic conditions.
"From a safety perspective, activity in these areas largely involves well-known issues," said Kjell Gunnar Dorum, who has represented the PSA in the project along with Carlsen.
The report, Technology and operational challenges for the high north, sought an overview of projects in the area that have been initiated or are planned by the oil and gas industry.
The result of the report's findings is positive, showing that much has been learnt on this subject in Norway, and that many relevant industry projects are planned or in progress., said Carlsen.
Recommendations: Technology Critical to Improving HSE in High North
Continued technological innovation will play a critical role in improving HSE in the High North region. For this reason, the report recommended that work into developing technology to address HSE issues in the High North by research institutions, contractors and oil and companies should be supported.
The report found that technology will play a key role in better safety, including:
winterization of safety-critical equipment to ensure it works in all weather conditions;
light wind protection to protect personnel from cold weather;
comfortable, warm clothing ; and
development of lifeboats for safe evacuation.
Technology for surveillance and data on physical conditions, including weather, also will be critical in the Barents Sea weather conditions. Alerts for polar lows, knowledge about ice accretion from sea spray and atmospheric icing, and models for snow drifts will lead to better understanding of risk and reduced uncertainty.
"This in turn facilitates development and use of technology and operational measures that are better adapted to the environment, thus safer operations," the report noted.
The report also recommended keeping abreast with technology for ice covered waters, which is important in regards to potential resources on the Norwegian Shelf in the far High North, such as the Svalbard offshore zone.
Additionally, technology and operational needs of the normally ice free region of the Barents Sea also should receive increased attention in the near future. This will become important as exploration and production activity ramps up in the zone formerly disputed between Norway and Russia, and in areas of the High North where petroleum resources have recently been identified.
Recommendations made in the report include addressing how personnel is trained to work in the High north, including educating graduates and continued education of experienced staff.
Oil and gas companies should continue to prepare themselves for the specific challenges of operating in the High North, and contacts between Norway and international companies and research institutes should be encouraged so Norway can keep up with international technology developments.
PSA will implement the report's findings into developing a framework for supervising activities in the region.
Generated by readers, the comments included herein do not reflect the views and opinions of Rigzone. All comments are subject to editorial review. Off-topic, inappropriate or insulting comments will be removed.