A Bird's Eye View of Oil Markets
by Trey Cowan
|
Rigzone Staff
|
Thursday, November 10, 2011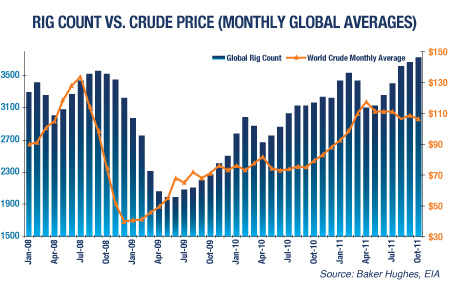 Throughout the world, the overall rotary rig count (both land and offshore combined) has continued to climb over much of 2011. We have heard that a more disciplined approach to project planning, where wells continued to get drilled even during soft patches for energy commodity prices, may explain why the rig count continues to advance while an average global basket for oil prices is modestly softening. As we look back over drilling patterns, favorable well economics in the current environment must be playing a hand at recently driving the rig count higher than what was experienced in 2008 when oil prices set their all-time peak.
In the United States, there has been much hand wringing and consternation in recent months as pundits and economist weigh the odds that the US economy could head towards another recession. The political environment, both domestically and abroad, has only added to concerns that the global economy is headed for declines next year.
While the Eurozone issues and the debt conundrums of Greece and Italy do point to trouble ahead, there is one metric in the U.S. that has been overlooked by most media when talking about a recession in the United States occurring.
Typically, America's consumer driven economy starts showing signs of strain for individuals well ahead of a meltdown of the Gross Domestic Produce. An accurate indicator of consumers struggling is a spike in the Auto Delinquency Rates (ADR). The following chart illustrates just how the ADRs did in fact spike ahead of the 2008-2009 recession, as they have typically done prior to other recessions historically. With auto delinquency rates trending lower for several quarters, this data does not support a view that we are headed for a double-dip recession.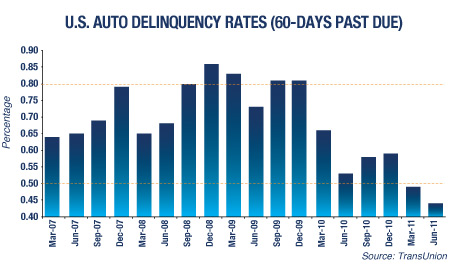 Near the beginning of October, Rigzone wrote about how WTI crude's recent sell off had formed a technical pattern that suggested a rally in prices with an approximate 80 percent chance of prices increasing by 15 percent or greater over the subsequent six months. Interestingly, over the last four weeks the price of WTI has advanced +20 percent, fulfilling part of the prediction. The other implication of the pattern was that future global crude demand would fall by approximately one percent. We will have to wait until early spring to see if the second part of the pattern holds this time as well.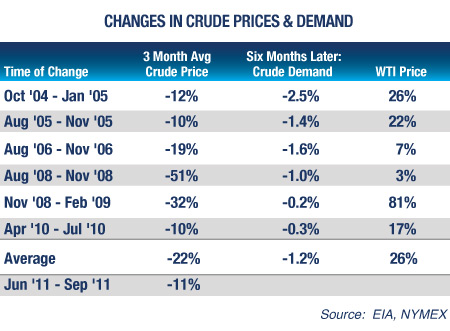 A slight pullback in crude demand this winter fits well with the argument that our global economy could experience some slippage. Especially if one considers the austerity measures that may come to pass in European countries like Italy, Greece, and Spain. However, there also exists a growing sentiment that refined products may grow increasingly dear this winter, which would be a continued bullish signal for oil prices. It is this type of push and pull in the current energy markets that actually puts us in the more optimistic camp for offshore rig usage in 2012.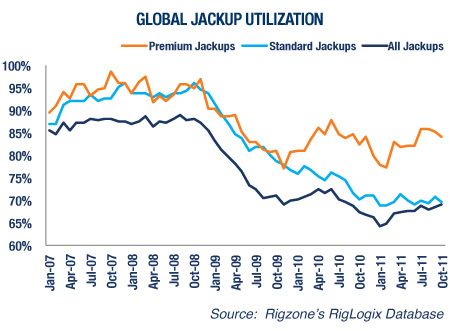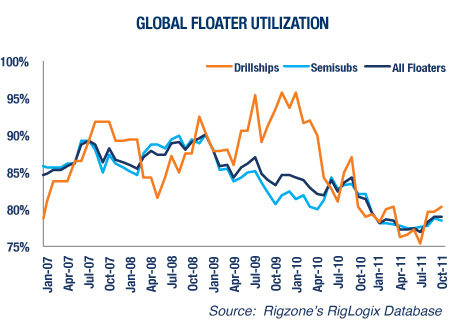 Besides a recent spate of tenders in regions like the North Sea, South America, and Africa; we can see from the trends in utilization that the offshore markets are on the mend. Additionally, dayrates for premium jackups and ultra-deepwater drillships have been gradually trending higher over the past four quarters. More importantly, the more commoditized offshore rigs have been experiencing a long period of stability with respect to dayrates. An environment like today's points towards continued drilling strength offshore going forward. Thus, we would not be surprised to see overall dayrates continue steadily improving throughout next year.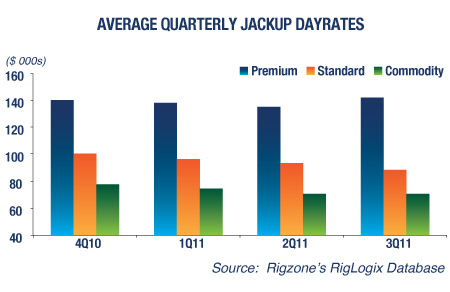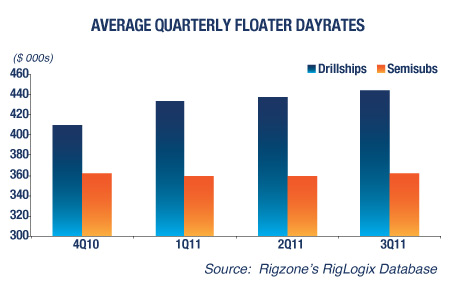 Generated by readers, the comments included herein do not reflect the views and opinions of Rigzone. All comments are subject to editorial review. Off-topic, inappropriate or insulting comments will be removed.