Repsol Net Profit Up Despite 18.2% Drop In Petroleum Output
by Ilan Brat
|
Dow Jones Newswires
|
Thursday, November 10, 2011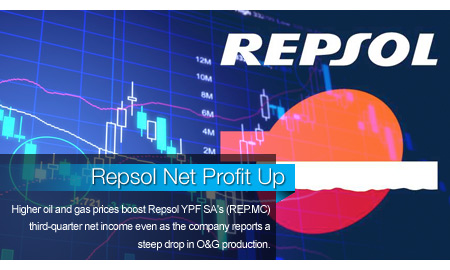 MADRID (Dow Jones Newswires), Nov. 10, 2011
Higher oil and gas prices helped boost Repsol YPF SA's (REP.MC) third-quarter net income, even as the company reported a steep drop in oil and gas production compared with last year.
Net income of EUR557 million was up 24.3% from last year and well above the EUR443.1 million analysts' consensus estimate compiled by Factset. However, the company's closely-watched replacement-cost-adjusted net profit came in at EUR429 million; that was slightly below the EUR432 million forecast, weighed down by higher interest charges and the company's sale of a minority stake in its Argentine YPF unit.
Total oil and gas production for the quarter fell 18.2% to 283,000 barrels of oil equivalent a day, pushed down by a shutdown in March in war-ravaged Libya and maintenance in Trinidad and Tobago. Production recently resumed in the North African country, and is currently at about 100,000 barrels a day, Miguel Martinez, Repsol's chief financial officer, said on a call with investors. He added that he expects the company to be producing an average of about 170,000 barrels of oil a day in 2012.
That estimate is more cautious than what Repsol's joint venture in Libya recently told its contractors, according to a letter reviewed by Dow Jones Newswires that the venture sent to contractors in early November. The letter said its production in the massive Sharara field could return to pre-war levels as early as next month.
Repsol ceased operations in Libya in March after war broke out in the country. Just before the conflict started in Libya, Repsol pumped out around 4% of its production from the North African country, or about 340,000 barrels daily. The company operates fields there jointly with France's Total SA (TOT) and Austria's OMV AG (OMV.VI), as well as Libya's state-owned oil company.
Production also slowly recovered in Argentina in the quarter after strikes depressed output there in the second quarter.
Output in the Gulf of Mexico, which had ceased following a recently-lifted drilling moratorium, has almost fully recovered, to an average of 28,000 barrels of oil equivalent per day, the company said.
Higher prices for gas and crude oil, as well as at service stations in Argentina, helped offset the effects of production declines.
Liquefied natural gas was a bright spot with higher volumes and marketing margins. Operating income in that division rose 125% to EUR108 million.
Earlier this week, Repsol said its YPF unit had discovered a large amount of shale oil in the south of Argentina and would continue an intensive drilling program there. Martinez said that the company is confident Repsol's ability to extract the oil and would book 20 million to 25 million barrels of the find to its reserves this year. He added that the company is not pursuing any acquisitions.
At 1422 GMT, Repsol shares were down 0.7% to EUR22.1, while the Ibex-35 was up 0.29%.
Copyright (c) 2011 Dow Jones & Company, Inc.
Generated by readers, the comments included herein do not reflect the views and opinions of Rigzone. All comments are subject to editorial review. Off-topic, inappropriate or insulting comments will be removed.
RELATED COMPANIES