IEA: Libya Oil Output Resuming Far Faster Than Expected
by James Herron and Benoit Faucon
|
Dow Jones Newswires
|
Thursday, November 10, 2011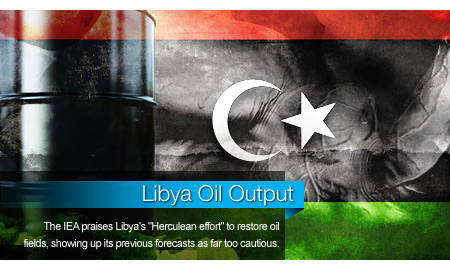 LONDON (Dow Jones Newswires), Nov. 10, 2011
Oil production in Libya is resuming far faster than initially expected and may be close to half its pre-war level of 1.6 million barrels a day by the end of this year, Libyan officials and the International Energy Agency said Thursday.
The war-torn country is already producing 600,000 barrels a day of oil and the restart of another giant Libyan oil field well ahead of forecasts will help push this total close to 800,000 barrels by the end of the year, the chairman of Libya's National Oil Co., Nuri Berruien, told Dow Jones Newswires.
The IEA praised the "Herculean effort" by Libyan officials to restore oil fields, showing up its previous forecasts as far too cautious. As such, global oil supply and demand look to be in balance in 2012, the IEA said.
As recently as September, the IEA was predicting Libya would produce no more than 0.4 million barrels a day by the end of this year. That milestone was passed in October and the agency now expects Libya to produce 0.7 million barrels a day by the end of this year. It also increased its forecast for first-quarter Libyan production by 60%, to 0.8 million barrels a day.
Pipelines at the Elephant field have restarted and are transporting 40,000 barrels a day of oil stored at the field, said Mohamed Jamaleddin, a member of the management committee of Mellitah Oil and Gas BV. Full production at the field will take some time to achieve, he said.
It was initially feared Elephant could take months to restart because its accommodation block had been looted by forces loyal to Col. Moammar Gadhafi. Elephant is partially owned by Italian oil company Eni SpA (E).
Spain's Repsol YPF SA (REP) also confirmed Thursday that Libya's second largest field, El-Sharara, was producing around 100,000 barrels a day of oil, just under a third of full capacity.
How soon Libya can restore full pre-war production remains uncertain. The IEA expects Libya to operate at just over 70% of full capacity by the end of 2012. However, a spokesman for the largest state-owned Libyan oil company, Arabian Gulf Oil Co., or Agoco, which produces around a quarter of Libya's oil, said it will be at full production by June.
Miguel Martinez, Repsol's chief financial officer, said he expects El-Sharara to produce an average of just under half its 350,000 barrel-a-day capacity in 2012.
Agoco acknowledges hurdles remain before Libya can restore full pre-war oil production. The ramp-up at fields operated by Arabian Gulf Oil Co. has been hindered by the looting of cars by Gadhafi forces during the conflict and underinvestment in power facilities used to pump oil, the spokesman said.
Damage caused by heavy fighting around oil export terminals during the civil war is likely to constrain output even if oil fields themselves haven't been damaged, it said. The most costly and specialized repairs may have to wait until workers from international oil companies return to Libya, it said.
(Ilan Brat in Madrid contributed to this article.)
Copyright (c) 2011 Dow Jones & Company, Inc.
Generated by readers, the comments included herein do not reflect the views and opinions of Rigzone. All comments are subject to editorial review. Off-topic, inappropriate or insulting comments will be removed.