Oil Majors Rediscover Their Exploring Mojo
by Andrew Peaple
|
Dow Jones Newswires
|
Wednesday, November 09, 2011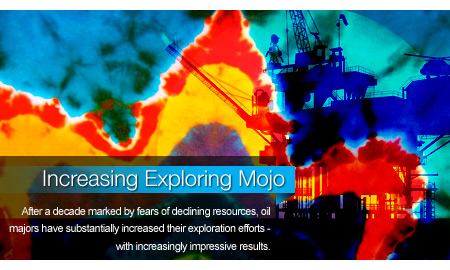 (Dow Jones Newswires), Nov. 9, 2011
'Explore and ye shall find', as the Bible nearly said. After a decade marked by fears of declining resources, oil majors have substantially increased their exploration efforts - with increasingly impressive results. Repsol's discovery of over 900 million barrels of oil equivalent in Argentina, the Spanish firm's largest find ever, is the latest in a string of fresh finds from both new and old areas. That should rekindle investor confidence in the sector.
Oil majors missed out on major new discoveries in places like Brazil and West Africa during the last decade. They were late to the U.S. shale party too. But recent finds include Eni's discovery of 15 trillion cubic feet of natural gas off Mozambique, almost equivalent to the Italian major's total existing proved gas reserves, and Statoil's discovery of a potential 1.5 billion barrels of oil in the North Sea in October, one of the five largest discoveries ever off Norway.
This success partly reflects increased exploration spending. The top six listed independent oil companies apportioned 13% of their capital spending to exploration in 2010 and 15% in 2009, up from 8.6% in 2005, according to IHS Herold data. Reserve durability is improving too. By 2015, 35% of oil major assets will be in areas where production isn't declining, up from 20% in 2005, Deutsche Bank estimates. That should help improve average annual production growth rates to 3% out to 2015, it forecasts.
Sure, there are plenty of uncertainties: Eni may need 6 years to start exporting gas from Mozambique; Repsol faces oil price caps in Argentina. Finding and developing new resources is becoming more costly, averaging $19 per barrel of oil equivalent from 2008 to 2010, compared with $9 per boe from 2000 to 2005.
But oil majors who prove they can redeploy cash into productive new exploration could be due a re-rating. Sector multiples have tumbled over the past decade as fears about new resource access took hold, with valuations converging. On this score, Shell emerges a winner and Total the laggard, Deutsche says. For investors who have got used to judging oil majors on cash payouts, a new focus on investment and growth will come as a welcome change.
Copyright (c) 2011 Dow Jones & Company, Inc.
Generated by readers, the comments included herein do not reflect the views and opinions of Rigzone. All comments are subject to editorial review. Off-topic, inappropriate or insulting comments will be removed.