BP Drills Successful Deepwater Appraisal Well Off Brazil
by Alexis Flynn
|
Dow Jones Newswires
|
Wednesday, November 09, 2011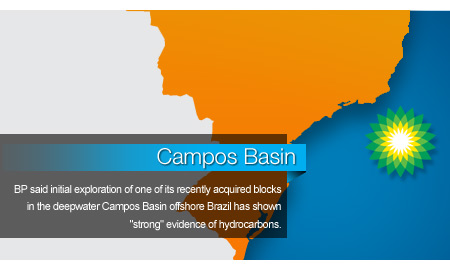 LONDON (Dow Jones Newswires), Nov. 9, 2011
BP said Wednesday initial exploration of one of its recently acquired blocks in the deepwater Campos Basin offshore Brazil has shown "strong" evidence of hydrocarbons and that it will soon begin the next phase of appraisal work to ascertain the quality and size of the reservoir.
Drilling at the Itaipu-2 presalt appraisal well "encountered strong shows on drilling including elevated gas, gas wetness and fluorescence within the cuttings," said BP.
"Further logging operations are on-going and will need to be integrated into the overall interpretation. The next piece of critical appraisal work at Itaipu will focus on retrieving a high quality fluid sample plus evaluating the producibility of the reservoir," said Neil Piggott, BP vice president for exploration Brazil.
BP bought a series of international exploration assets from Devon Energy in a $7 billion deal earlier this year, including deep fields off the Brazilian coast. The area rests on the giant presalt layer, a geological formation on the continental shelves off the coast of Africa and Brazil, and which often holds significant oil and gas reservoirs. The deepwater fields off Brazil may hold at least 80 billion barrels of oil, while the assets in the Campos basin acquired by BP from Devon have been estimated to contain resources of as much as 6 billion to 7 billion barrels of oil.
Copyright (c) 2011 Dow Jones & Company, Inc.
RELATED COMPANIES