Musings: Could Marcellus Shale Growth Be Sidelined By Legalities
by G. Allen Brooks
|
Parks Paton Hoepfl & Brown
|
Tuesday, November 08, 2011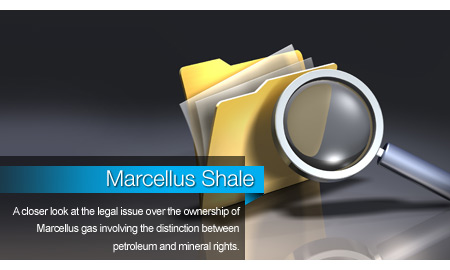 It has recently come to our attention that a lawsuit in Pennsylvania over the ownership of Marcellus shale gas rights could put many leases in jeopardy and slow the development of this huge natural gas resource. The case is John E. and Mary Josephine Butler v. Charles Powers Estate et al, filed in the Superior Court of Pennsylvania. The Butlers are relying on previous rulings that established ownership of oil or gas doesn't change hands unless it's specified in a deed. In opposition, the Powers' heirs argue that the deed gave them the right to other minerals such as coal, and that they own the gas trapped in the shale the same way they would own the gas trapped in a coal seam.
For over a century, Pennsylvania has required landowners to consider oil and gas rights separate from the more general and common "mineral rights" when transferring ownership of resources beneath the surface of their property. The Powers argue that shale gas is different and should be considered part of the mineral rights because it is contained inside rock. Part of the argument rests on the fact that the gas in the Marcellus shale is not free-flowing since it has to be fractured in order to release it. In the case of coalbed gas, which also is trapped in the coal rock and only released once mining is underway, the ownership always remains with the mineral rights.
The Superior Court, the second-highest court in Pennsylvania, ruled that current law doesn't sufficiently address whether "Marcellus shale constitutes a mineral," sending the question back to the lower court to develop a trial fact record. Many oil and gas professionals would say that the Marcellus shale is merely a tight rock formation, but under laws that are more than a century old, that definition should not be considered a given. We will be watching this issue closely as it has the potential to upset popular assumptions about the role the Marcellus shale will play in America's energy strategy.
Generated by readers, the comments included herein do not reflect the views and opinions of Rigzone. All comments are subject to editorial review. Off-topic, inappropriate or insulting comments will be removed.