Mozambique Exploration Pays Off Big Time
by Jaime Kammerzell
|
Rigzone Staff
|
Tuesday, November 08, 2011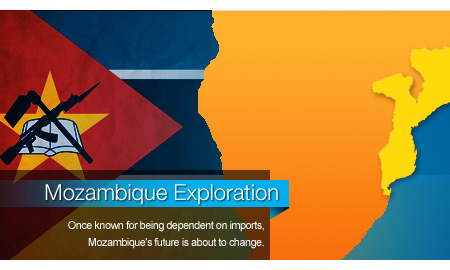 Mozambique is experiencing a liquefied petroleum gas shortage as its supplier, Imopetro, cannot import the 80 tonnes of LPG per day the east African country requires.
Imopetro explained the shortage in a press release on October 25. The non-profit, formed by all the fuel distribution companies that operate in Mozambique, has a contract with Engen though February 2012, but the petroleum company suffered a fire in its refinery in Durban recently. Thus, Imopetro expects imported LPG to be limited until the refinery is back online in mid to end of November.
Mozambique is dependent on imports as it produces very little natural gas and virtually no oil. But that's about to change. Anadarko and Eni have made large natural gas finds recently that could be game changers in the region.
Anadarko's Offshore Area 1 of the deepwater Rovyma Basin -- which includes the Windjammer, Barquentine, Camarao and Lagosta discoveries -- is thought to hold at least 10 Tcf of recoverable natural gas resources, Anadarko's Sr. Vice President, Bob Daniels said in a release on October 5.
To put that into perspective, an October 26 Bloomberg article said Anadarko's Mozambique discoveries hold more gas than the UK's total remaining reserves.
"We are optimistic that our current resource estimates will increase, as we still have significant exploration and appraisal work ahead of us, including the evaluation of two newly acquired 3D seismic datasets and expanded prospect opportunities," Daniels said. "We are mobilizing a second deepwater drillship to the Rovuma Basin to accelerate the campaign, which includes an extensive reservoir testing program and up to seven exploration/appraisal wells over the next 12 months."
Cove Energy, which holds 8.5 percent in the Rovyma Basin offshore Area 1, was more optimistic in its remarks. Michael Blaha, executive chairman of Cove Energy, told an African oil and gas conference on November 1 that the discovery potentially holds 40 Tcf. A Reuters report quoted the executive chairman saying, "We believe to date that we have already proven up more than 11 tcf, however Cove estimates the overall potential of the (Rovuma offshore Mozambique) block only to be more 40 tcf and the total potential for East Africa is easily 100 tcf."
According to Reuters, Blaha said the first gas from Mozambique was scheduled for 2018, with the first LNG gas trains likely to supply the growing Asian market.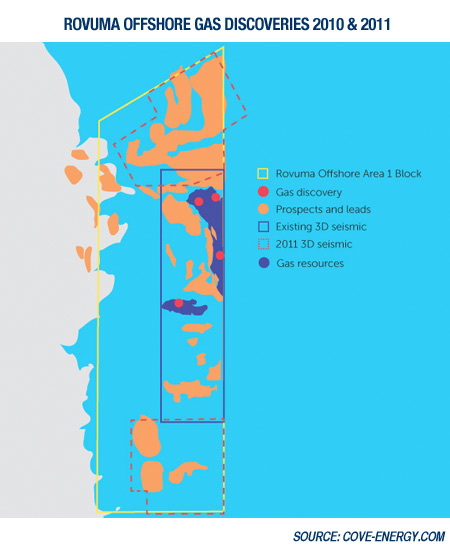 Just days after Anadarko's announcement, Eni revealed a giant gas discovery at the Mamba South 1 prospect in Area 4 offshore Mozambique. According to the October 20 statement, results exceed pre-drill expectations and confirm the Rovuma Basin as a world-class natural gas province. Eni believes this discovery can lead to at least 15 tcf of gas in place in the Mamba South Area where the potential of the Tertiary Play that exists in Area 4 will be further assessed under the present drilling.
The statement goes on to say, "the outstanding volume of natural gas discovered will lead to a large scale gas development with a combination of both export to regional and international markets through LNG and supply to the domestic market. This will support the industrial and economic growth of the country."
Hydrocarbon Potential
Mozambique lies at the southern tip of a fault line running along the east African coast to Somalia, forming a geologically inviting region for natural gas.
According to the National Petroleum Institute (INP), exploration started in the early 1900s, but it wasn't until 1961 when the Pande field was discovered that the country had any success. Buzi and Temane followed in 1962 and 1967.
In the 1980s, after years of civil war and conflict, Mozambique's oil and gas exploration revived. Pande and Temane gas fields were quickly developed and construction of an 865 km cross border pipeline from Temane to Secunda in the neighboring Republic of South Africa commenced. Drilling of the Buzi-Divinhe field started in September 1997.
Mozambique launched its First Offshore Licensing Round on March 31, 2000. This bidding round offered 14 blocks mainly in the Mozambique Basin covering the shallow and deep Zambezi delta area.
The Temane East and Inhassoro fields were discovered in 2003, and production from the Temane field, which has reserves of 1.0 Tcf, started in 2004, followed by gas production from the Pande field, which has reserves of 2.1 Tcf, in 2010. According to the INP, five percent of the natural gas produced in Pande/Temane Natural Gas venture is paid in kind or cash to the Mozambique Government, which in turn uses this gas for the supply to the local industry, which contributes to reduced imports of energy products as thereby improve the trade balance.
An expansion of the Pande/Temane processing plant, which is set to open this week, should further reduce imported energy products. According to a Reuters report, Sasol, which holds a 70 percent stake in the $865 million natural gas project, hopes to increase gas production by 50 percent to 183 million gigajoules by 2016. Reuters talked to Ebbie Haan, managing director of Sasol Petroleum International, at an industry conference, who said, 23 percent of the projected 2016 output would be destined for Mozambique's domestic market.
The INP launched the Second Offshore Licensing Round in 2005 for the concession of exploration acreage over the Rovuma Basin in northern Mozambique. INP signed three offshore Exploration and Concession Contracts with Anadarko, ENI, Petronas and one onshore with Artumas.
In 2007, the first 3D seismic acquisition was conducted in the 16 and 19 Concession Area offshore Mozambique Basin and Sasol Petroleum Sofala made the first offshore gas discovery there in November 2008. Sofala drilled Njika-1 in 460 m of water to 1,615 m TD.
In a press release at the time, Lean Strauss, Sasol Group General Manager said, "a development in the deep offshore areas of Mozambique will require large investments and gas finds have to be substantial in order to be economically viable."
Sasol, as the operator, held a 50 percent participating share in the license. Petronas held a 35 percent interest, while the Government of Mozambique represented by its national oil company, Empresa Nacional De Hidrocarbonetos De Mozambique, E.P. (ENH) held the remaining 15 percent interest.
In 2008, Petronas Carigali won a joint-venture license in Area 3 and Area 6 in the Rovuma Basin with the Mozambican National Hydrocarbon Company (ENH) holding a 10 percent stake. The operator then called for tenders to select a company to search for a suitable drilling site on this license in September 2011. According to a statement on September 21, Petronas has gathered and processed 2D seismic data covering an area of 7,000 sq km, which need to be interpreted to locate the best spot to drill for oil and gas.
According to Petronas' release, "between 2009 and 2010, a total of $370 million was spent on prospecting by various companies in the Rovuma Basin. The biggest investment has been by Anadarko Petroleum, which will have invested $3 billion in the Rovuma Basin by 2013. If it goes ahead with a plan to develop an LNG plant, its total investment in Mozambique will reach $18 billion by 2018."
Future Prospects
Eni and Anadarko's recent discoveries have sparked tremendous interest from international companies to start exploring offshore Mozambique.
In July 2011, ION Geophysical Corporation acquired 8,700 km of regional seismic data offshore Tanzania, Mozambique and Comoros, as part of its East AfricaSPAN program.
"This additional dataset will provide important ties to the Southern petroleum provinces of East Africa in Mozambique and southern Tanzania, and help shape ideas for exploration in the rest of the margin," Ken Williamson, Senior Vice President of ION's Integrated Seismic Solutions group, said in a press release.
Onshore Mozambique holds future potential as well. Wentworth Resources announced in October 2011 that it hired RPS Energy Canada Ltd. and its associated geology and geophysics firm, Petrel Robertson Consulting Ltd. (RPS) to carry out an independent assessment of the company's gross and net prospective resources for the Rovuma block, based on 2D seismic. The independent assessment revealed 1,331 Bcf gross and 154 BCF net P50 recoverable prospective resources. Wentworth will now acquire new seismic data and drill at least one exploration well.

Generated by readers, the comments included herein do not reflect the views and opinions of Rigzone. All comments are subject to editorial review. Off-topic, inappropriate or insulting comments will be removed.