OPEC Says May Not Increase Oil Production in Coming Months
by Benoit Faucon
|
Dow Jones Newswires
|
Tuesday, November 08, 2011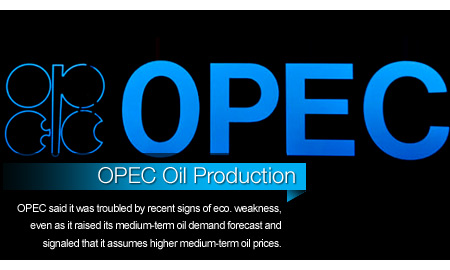 LONDON (Dow Jones Newswires), Nov. 8, 2011
OPEC Tuesday said it was troubled by recent signs of economic weakness, even as it raised its medium-term oil demand forecast and signaled that it assumes higher medium-term oil prices in light of recent social spending efforts unveiled by some key OPEC producers.
In its closely-watched annual World Oil Outlook, the Organization of Petroleum Exporting Countries upgraded its oil demand forecast by 1.9 million barrels a day through 2015 compared with its year-ago estimate, after being surprised by the pace of the economic recovery the past two years. But OPEC noted that the economic recovery remains "very fragile" and said there is still a real chance of another recession.
OPEC also upgraded its estimate for the underlying oil price it uses in its reference case forecast to a range of $85-$95 a barrel for this decade, up $10 from the 2010 report. The analysis marked the first official acknowledgment from OPEC that some members now need higher prices in light of recent social investment programs, suggesting consumers likely face a higher long-term floor on crude prices despite recent economic uncertainty.
Oil prices have generally stayed fairly high in recent months in spite of the euro zone woes. The December Brent contract on London's ICE futures exchange was 0.90% higher at $115.60 a barrel as of 1530 GMT.
OPEC has repeatedly trimmed its near-term oil demand forecasts in recent monthly oil market reports of short-term conditions. But Tuesday's report - which covers the outlook through 2035 - still points to higher oil consumption in 2015 compared with the 2010 version in light of the "more rapid recovery from the Great Recession than was assumed," OPEC said.
The group said it expects "decisive action [will be] taken in a timely manner to make sure the global economy remains on the path of recovery."
At the same time, OPEC warned that "risks [to the economic recovery] have even increased recently" in light of recent problems in the euro zone. Were economic-support packages to fail, a return to recession "cannot be ruled out," the producers' group said.
OPEC has "not seen concrete evidence that this [euro-zone economic] problem will be solved within 2012 or 2013" the organization's Secretary General Abdalla Salem El-Badri said at the report's press presentation.
OPEC said the revised medium-term pricing assumptions were needed because the range given in the 2010 report of $75 to $85 a barrel was no longer sufficient. OPEC cited a number of factors for the increase, including currency movements and higher oil field costs, in addition to increased fiscal spending by OPEC members.
"Recent analysis has suggested that the price assumption in the 2010 (report) is now below the fiscal break-even price in many OPEC countries," the report said. The organization next meets Dec. 14 in Vienna.
In a report last month on Middle East and North African economies, the International Monetary Fund said the majority of oil producers in the region have increased their break-even price--with most now at about $80 to $100 a barrel--after unrest toppled several Arab regimes. Saudi Arabia alone has unveiled some $129 billion in additional expenditures in recent months.
OPEC insisted the new assumptions "do not reflect, in any way, a projection of likely or desirable prices." But it said they also mirrored a resurgent costs inflation to search and extract oil during the economic recovery. This increase is compounded by so-called unconventional resources, located in terrains that are harder, pricier to tap.
The producers organization says the economy can cope with these higher prices, arguing of "a weakening linkage between oil prices and the economy/oil demand" and that high oil prices didn't play a key role in the recession.
Yet, the prospect of a mounting fuel burden will be read with a gloomy eye by motorists wary of the price they pay at the pump and by the International Energy Agency, which represents some of the world's largest energy consumers.
The IEA, which recently reiterated that the world is headed for a "dire future" as high energy prices drag on economic growth, is set to issue its own annual outlook Wednesday.
Copyright (c) 2011 Dow Jones & Company, Inc.
Generated by readers, the comments included herein do not reflect the views and opinions of Rigzone. All comments are subject to editorial review. Off-topic, inappropriate or insulting comments will be removed.