US Collects More Than $11B from Energy Royalties in FY2011
by Tennille Tracy
|
Dow Jones Newswires
|
Monday, November 07, 2011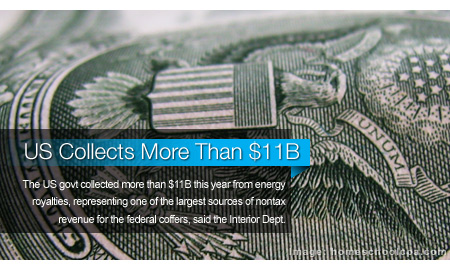 WASHINGTON (Dow Jones Newswires), Nov. 7, 2011
The U.S. government collected more than $11 billion this year from royalties on oil, natural gas and coal production, representing one of the largest sources of nontax revenue for the federal coffers, the Interior Department said Monday.
The fiscal year 2011 revenue was higher than 2010's revenue by about $2 billion, or 22%. But they paled in comparison to 2008 when a Gulf of Mexico lease sale helped to push the government's annual take to more than $23 billion, Interior spokesman Patrick Etchart said.
Of the $11.2 billion collected in 2011, the U.S. government distributed about $2 billion to various states. The largest recipient was Wyoming, where a lot of coal production takes place. Wyoming received more than $970 million.
Among other top recipients were New Mexico, Colorado and Utah.
The revenue comes mostly from oil, gas and coal production on federal lands and waters. Companies that extract these fuels pay royalties, rents and bonus bids to the government.
"These revenues reflect significant domestic energy production and are a critical revenue stream for governments and American Indian communities, particularly in light of current economic conditions," Interior Secretary Ken Salazar said in a statement.
The release of the revenue numbers coincides with the oil and gas industry's effort to pressure the Obama administration into opening more federal lands and waters to drilling and to speed up permitting for that work. The industry says such actions would increase production, leading to higher royalties for the government.
Copyright (c) 2011 Dow Jones & Company, Inc.
Generated by readers, the comments included herein do not reflect the views and opinions of Rigzone. All comments are subject to editorial review. Off-topic, inappropriate or insulting comments will be removed.