Can America Use All This Natural Gas from Shale?
by Barbara Saunders
|
Rigzone Staff
|
Monday, November 07, 2011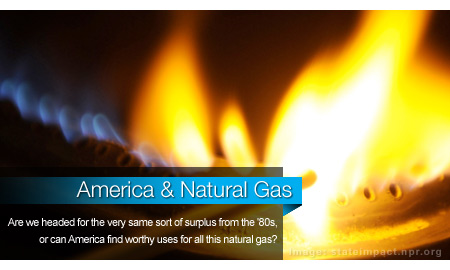 America is swimming in natural gas from shale formations. It promises to be our bail-out from otherwise flat or falling gas supplies of other types – and provide important relief from our dependence on imported oil.
According to the U.S. Energy Information Administration (EIA), shale provided only about 14 percent of America's natural gas in 2009. That's poised to skyrocket to 46 percent in 2035. EIA statistics also show an astounding 862 trillion cubic feet (Tcf) in technically recoverable gas resources from shale.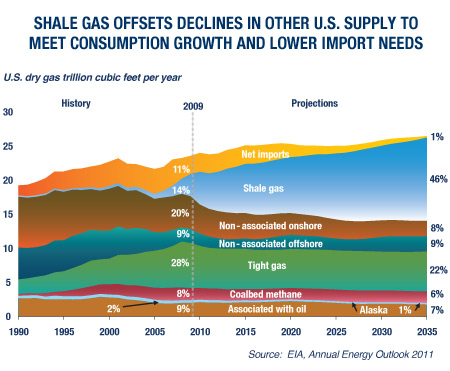 But recalling the great gas glut of the 1980's, then politely referred to as "the gas bubble," are we headed for the very same sort of surplus, or can America find worthy uses for all this natural gas?
No, say experts contacted by Rigzone. There won't be a glut and yes, we can find uses for it.
"This is a marvelous opportunity," said John Felmy, chief economist for the American Petroleum Institute (API). "I think we'll be able to use it and there will be opportunities for LNG exports."
During the 1980's, Felmy explained, regulations prevented utilities from using natural gas. Now, the U.S. Environmental Protection Agency (EPA) envisions the gradual shutdown of old coal-fired power plants and conversions to natural gas and other cleaner-burning energy sources. "I'm excited to see the opportunity for new jobs in places like western Pennsylvania, where I'm from."
That region is home to the Marcellus shale gas play, one of the largest in the nation.
Felmy and others agreed that electric power plants represent the single largest growth opportunity for natural gas. We are amid one such growth spurt now, with a huge, steady rise expected between 2021 and 2035, EIA projects.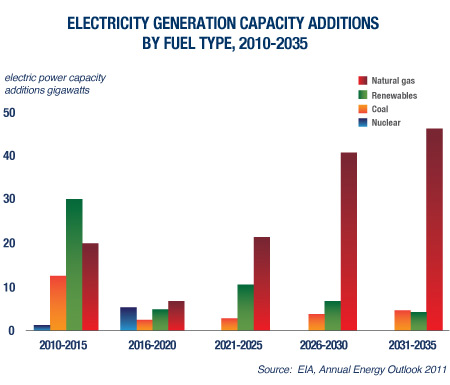 Another promising natural gas market is large chemical and petrochemical plants, said Bill Liss, manager of the division of end use solutions for the Gas Technology Institute. He also sees potential for natural gas to back out residential fuel oil use and displace most Canadian gas imports.
Liss, however, doesn't see natural gas making great gains in the major appliance market, such as water heaters, air conditioners and clothes driers, despite much lower life-cycle operating costs. This is because gas appliances typically cost more up-front to purchase and many consumers only think about the initial price-tag.
Of course, the shale explosion is happening worldwide, heralding in what the International Energy Agency (IEA) termed the "Golden Age of Gas" in a report under that banner released recently. IEA revised its gas supply and use projections upward substantially to account for more and more promising news globally on the shale scene.
"An increase in production equivalent to three times the current production of Russia will be needed to meet the growth in demand and sustain supplies," IEA said. The agency forecasts 50 percent growth in gas use between 2010 and 2035, with gas accounting for 25 percent of worldwide energy demand in the latter year.
Another promising growth area is in natural gas vehicles, particularly fleet vehicles, says Rich Kolodziej, of the Natural Gas Vehicles Coalition (NGVC.)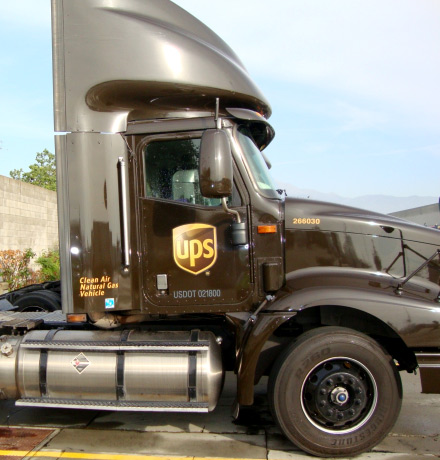 UPS is expanding its fleet of vehicles powered by liquefied natural gas, or LNG. More than 1,200 trucks nationwide run on LNG. Source: Natural Gas Vehicles Coalition
"There will be high use of urban fleets, because you have common fueling depots where one station can serve a huge private fleet," Kolodziej said.
Already, natural gas fuels some 40 percent of U.S. trash trucks, Kolodzeij pointed out.
Kolodziej doesn't think that natural gas vehicles will see large growth in the U.S. individual auto and truck "Mom and Pop" market, though. This is because "Mom and Pop want to be able to drive to California, even if they never will, and there's the fear factor of not enough refueling stations yet." Too, the initial cost of NGV's is high, due to the need for heavy-duty fuel tanks.
Kolodziej does see potential in the off-road market, such as ships and even trains.
"In the U.S.," he said, "On-road diesel can only have 15 parts per million (ppm) sulfur. Ships are allowed 50 ppm [in bunker fuel] and are the largest emitter of particulates matter in Los Angeles."
There's "a lot of interest" in dealing with the pollution problems from ships, he added, because internationally, some ports are beginning to require ships to anchor offshore and offload cargo in smaller vessels.
Generated by readers, the comments included herein do not reflect the views and opinions of Rigzone. All comments are subject to editorial review. Off-topic, inappropriate or insulting comments will be removed.