BP's $7B Argentina Asset Sale Collapses; Bridas Cancels Talks
by Taos Turner & Simon Hall
|
Dow Jones Newswires
|
Monday, November 07, 2011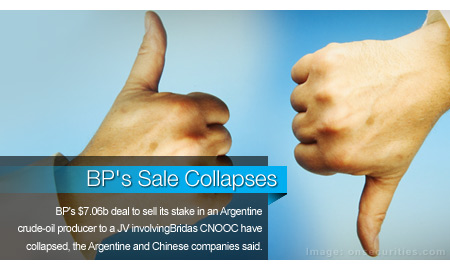 BUENOS AIRES (Dow Jones Newswires), Nov. 7, 2011
BP's $7.06 billion deal to sell its stake in an Argentine crude-oil producer to a joint venture involving Argentina's Bridas Energy Holdings Ltd. and China's CNOOC have collapsed, the Argentine and Chinese companies said.
BP agreed last November to sell its 60% stake in Pan American Energy to CNOOC and Bridas, with their pact containing a Nov. 1 completion date. BP said that its counterparties had, as part of the agreement, been responsible for getting Argentine anti-trust and Chinese government approvals, but had not been able to achieve this.
Bridas said in a statement that it decided to end talks on the sale because of "legal reasons" and because of "the way BP has acted during the transaction."
"We have received a letter from Bridas Corp. exercising their right to terminate the share purchase agreement under which it had agreed to purchase BP's 60% interest in Pan American Energy LLC, BP spokesman David Nicholas said.
"As we said in our 3Q result announcement, the transaction was subject to conditions precedent--namely, Argentine anti-trust and Chinese governmental approvals. Securing these approvals was the sole responsibility of Bridas. Bridas had not yet been able to satisfy these conditions precedent but the approval processes were ongoing and, for reasons known only to them, Bridas has now chosen to terminate the transaction."
"BP will now be considering all its strategic options regarding PAE," Nicholas added
BP group chief executive Bob Dudley's said in a phone call with financial analysts on Oct. 25: "We reached that agreement last year at a time when oil prices were lower. It was a time when we actually needed to make some divestments of properties. We're past that point. We don't actually need to make that divestment...if it doesn't happen, it's absolutely fine."
In a separate statement, CNOOC CEO Yang Hua said that "certain conditions precedent to the completion of the deal were not obtained as expected, and Bridas chose to terminate the transaction." No additional details were given other than that BP had been informed of the decision on Nov. 5.
The planned deal was one of a string a major resources investments by China in Latin America in the past two years, and an unusually large deal for an Argentine company.
Bridas denied media reports citing Argentine political opposition to the deal, saying that both the Argentine and Chinese governments "have always acted positively regarding the transaction."
"Neither the European nor the international financial crisis nor any measures taken in Argentina have had any influence on this decision," Bridas said.
In recent months people familiar with the negotiations have said impediments to the deal rested not in Argentina or in China but rather in London, specifically within BP. BP could not be reached for comment.
BP has been selling assets to raise cash to cover the cost of last year's Deepwater Horizon oil spill in the Gulf of Mexico.
Chinese companies have long been scooping up overseas oil and gas assets, and CNOOC said Sunday it is still looking for additional acquisitions.
Last year China Petroleum & Chemical, or Sinopec, bought a 40% stake in Repsol's Brazilian upstream operations for $7.1 billion, and it also acquired U.S.-based Occidental Petroleum Corp.'s (OXY) Argentina subsidiary for $2.45 billion.
More recently, last month, a unit of China Petrochemical Corp. agreed to buy Daylight Energy, a Canadian oil and natural-gas producer, for C$2.2 billion (US $2.19 billion).
CNOOC and BP had previously said the U.K. company would have to repay a deposit from the joint venture of $3.53 billion if the deal fell through. In event of termination, BP would also have to pay Bridas $700 million, according to a BP statement on Oct. 25.
Bridas said it wouldn't rule out further talks. "We are totally open and have always willing to find constructive solutions," the company said. "We don't have any idea how BP is going to react. You'd have to ask BP."
Pan American's main assets are in Argentina, where it is the second-largest producer of oil and gas. The company also has interests in oil and gas transportation, oil storage and loading, gas distribution and power generation.
CNOOC said that it "will continue to look for overseas opportunities which could add value to our company both in short term and long run."
CNOOC had a very high-profile failure on an even larger deal back in 2005 when its attempts to buy California-based Unocal Corp. were blocked following a nationalistic political uproar in the U.S.
Copyright (c) 2011 Dow Jones & Company, Inc.
Generated by readers, the comments included herein do not reflect the views and opinions of Rigzone. All comments are subject to editorial review. Off-topic, inappropriate or insulting comments will be removed.
RELATED COMPANIES