Latest in E&P Technology Showcased at SPE ATCE Conference
by Karen Boman
|
Rigzone Staff
|
Friday, November 04, 2011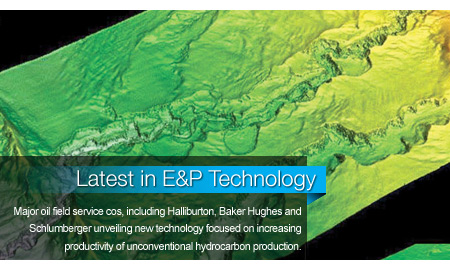 The latest in oil and gas exploration and production technology was on display at the Society of Petroleum Engineers (SPE) Annual Technical Conference and Exhibition (ATCE) in Denver October 30-November 2.
Approximately 9,400 oil and gas industry professionals from 57 countries attended the event, which was the second largest in its 87-year history. The conference addressed a number of issues facing the oil and gas industry, including industry standards and environmental concerns, as well emerging technologies such as nanotechnology, carbon capture storage, and professional development.
North American unconventional hydrocarbon development was a hot topic at the conference, with a number of technical sessions highlighting industry experience with hydraulic fracturing and unconventional reservoir development. Unconventional drilling in the Bakken region and Rocky Mountain plays was of particular interest, with a session featuring company representatives sharing their lessons learned and insight into horizontal drilling.
Major oil field service companies, including Halliburton, Baker Hughes and Schlumberger unveiling new technology focused on increasing productivity of unconventional hydrocarbon production.
Halliburton debuted its new AccessFrac Service, which optimizes fracturing treatments by helping assure that each perforation cluster in each interval receives the designed amount of proppant.
"The new service addresses three points: are we treating each perforation, are we doing enough behind the pipe, and allowing more gas to flow out," said Dave Allison, Tenet manager for Halliburton.
The AccessFrac process can help optimize both plug and perf and sliding sleeve treatments by achieving enhanced proppant distribution. The process includes one or more of Halliburton's proven diverting technologies – BioVert NW (near wellbore) and BioVert CF (complex fracture) biodegradable diverting agents
The AccessFrac process has already been successfully used over 50 times in the Barnett shale in a variety of fracturing applications.
Baker Hughes unveiled several new products aimed at unconventional oil and gas production, drilling, water treatment and 3D visualization.
These products include the FracPoint multi-stage completion system, which uses openhole packers to isolate multiple stages and ball-activated sleeves to divert the frac treatment. The system's EX-C sleeves extend the capability of ball-activated systems, enabling more contact with the reservoir while maintaining fracturing efficiency.
The company's OptiPort multistage fracturing system includes pressure-balanced sleeves to divert the fracture, and either cement or openhole packers to isolate each stage.
Baker Hughes' products are aimed at increasing the efficiency of hydrocarbon production from shale plays worldwide; these plays feature vastly different minerals, structure and geology.
"These technologies allow us to customize a solution that maximizes results and minimizes impact," said Neil Harrop, president of completions and production for Baker Hughes.
Robert Gales, vice president of unconventional resource development at Weatherford International, said that unconventional wells are massive engineering projects, but are really the same as conventional projects.
"It's essentially taking multiple data sources, effectively integrating data and implementing it for optimal drilling design, then rigorously executing the project," Gales said.
Weatherford also launched several new technologies aimed at addressing E&P cost and efficiency, including the ZoneSelect MASS Sleeve, a frac sliding sleeve that can treat up to 50 zones in a single job.
While technology is critical for managing production efficiency and cost of unconventional wells, which have significant reservoir variability and productivity, the environmental and political perspective also must be taken into account, Gales noted.
Exploring for unconventional resources internationally is even more complex, due to lack of number of wells drilled, fewer operators, and lack of equipment and personnel, Gales said during a presentation at the Weatherford booth at the SPE exhibition.
Gathering information early in the well design stage, including more use of mudlogging, provides a lot of value. "It pays to stimulate, complete and produce wells to get an idea early of the initial production and declines rates."
High Standards, Regulatory Burden Need to be Addressed
Matthias Bischell, director of projects and technology at Shell, said that high industry standards are good for the oil and gas business, with self-regulation and industrywide standards critical for meeting environmental standards in a post-Macondo world.
NASA's Director of Safety and Mission Assurance William McArthur stressed to attendees the need for a quality safety culture, noting that overconfidence can lead well-trained, safety conscious people to make mistakes. In the case of NASA, which has faced heavy criticism of its safety culture, said that schedule pressures and budget pressures, as well as the normalization of deviation, must be addressed. NASA's own changes to improve its safety culture include rigorous support for dissenting views.
U.S. House Majority Whip Kevin McCarthy told attendees that Congress should think more about outcomes when crafting legislation as a means of lightening the regulatory burden on the oil and gas industry.
McCarthy said policymakers can draw lessons on reviving economy from Moneyball, the book and movie featuring the cash strapped Oakland As who built a strong 2002 season by using overlooked statistics to create a winning team. Lawmakers need to measure what's actually successful and ignore conventional wisdom.
Generated by readers, the comments included herein do not reflect the views and opinions of Rigzone. All comments are subject to editorial review. Off-topic, inappropriate or insulting comments will be removed.