EPA to Figure Out What the Frack is Going On
by Saaniya Bangee
|
Rigzone Staff
|
Thursday, November 03, 2011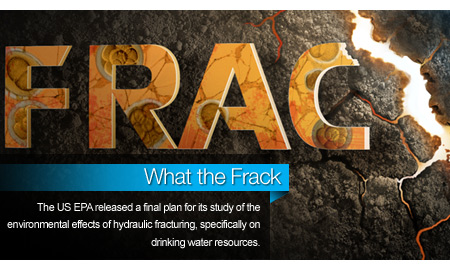 The U.S. Environmental Protection Agency (EPA) released a final plan for its study of the environmental effects of hydraulic fracturing, specifically on drinking water resources.
In fiscal year 2010, the EPA was commissioned by the U.S. Congress to conduct this study due to escalating public concerns.
The study will assess the potential impacts and identify the factors that affect the frequency and severity of impacts, said the EPA. It will focus on fracking in shale formations but will also include coalbed methane and tight sand reservoirs. Five fundamental questions to be determined by the study are:
What are the possible impacts of large volume water withdrawals from drinking resources?
What are the possible impacts of surface spills near well pads?
What are potential impacts of the injection and fracturing process?
What are the possible impacts of spills near well pads of flowback and produced water?
What are the possible impacts of inadequate treatment of fracking wastewaters?
Nominated by stakeholders nationwide, the EPA narrowed down the selection to seven cities to be included in the study: five retrospective studies and two prospective studies. The retrospective case study will focus on areas in which reported drinking water contaminations have occurred due to fracking while the EPA will monitor vital aspects of the process at prospective sites.
The five retrospective case studies are located in the Raton Basin for coalbed methane, and the Bakken, Barnett and Marcellus formations for shale.
Prospective case studies will be conducted in the Haynesville Shale in DeSoto Parish, Louisiana, and the Marcellus Shale in Washington County, Pennsylvania.
The prospective case studies will help to answer the following secondary research questions:
How might water withdrawals affect short- and long-term water availability in an area with hydraulic fracturing activity?
What are the possible impacts of water withdrawals for hydraulic fracturing options on local water quality?
How effective are current well construction practices at containing gases and fluids before, during, and after fracturing?
What local geologic or man-made factors may contribute to subsurface migration of fluids or gases to drinking water resources?
What is the composition of hydraulic fracturing wastewaters, and what factors might influence this composition?
What are the common treatment and disposal methods for hydraulic fracturing wastewaters, and where are these methods practiced?
Are large volumes of water being disproportionately withdrawn from drinking water resources that serve communities with environmental justice concerns?
Are hydraulically fractured oil and gas wells disproportionately located near communities with environmental justice concerns?
Is wastewater from hydraulic fracturing operations being disproportionately treated or disposed of (via POTWs or commercial treatment systems) in or near communities with environmental justice concerns?
The EPA will release preliminary results in 2012 and a final report in 2014.
Generated by readers, the comments included herein do not reflect the views and opinions of Rigzone. All comments are subject to editorial review. Off-topic, inappropriate or insulting comments will be removed.
RELATED COMPANIES