Chevron Polish Unit Starts Exploratory Drilling in Lublin Province
by Marynia Kruk
|
Dow Jones Newswires
|
Wednesday, November 02, 2011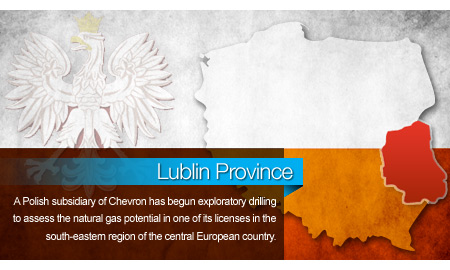 WARSAW (Dow Jones Newswires), Nov. 2, 2011
A Polish subsidiary of Chevron has begun exploratory drilling to assess the natural gas potential in one of its licenses in the south-eastern region of the central European country, the company said in a statement Wednesday.
Chevron is joining a growing number of companies, including ExxonMobil, and Polish government-controlled PKN Orlen and PGNiG, which have moved to the drilling phase of their work to assess of the potential of their licenses in Poland.
Outside the U.S., Poland is one of the first countries where companies are making a serious effort to develop shale gas, which Polish Prime Minister Donald Tusk has called the country's "great chance," as it could loosen Poland's dependence on Russia for its gas, create tens of thousands of jobs, and fill state coffers.
Chevron drilled its first well to explore for gas extracted from shale rock on its Grabowiec license area, one of four leases the company acquired between late 2009 and early 2010 in the Lublin province.
"The company is pursuing an exploration program that includes acquiring geophysical surveys to generate subsurface maps, and drilling exploratory wells," Chevron said. "To date, the company has acquired more than over 1,300 kilometers of subsurface data across the four concession areas."
Current preliminary estimates put Poland's shale gas reserves at 5.3 trillion cubic meters, equal to more than 300 years of the country's annual gas consumption.
Copyright (c) 2011 Dow Jones & Company, Inc.
RELATED COMPANIES