Transocean Files Federal Motion Against BP
by Saaniya Bangee
|
Rigzone Staff
|
Tuesday, November 01, 2011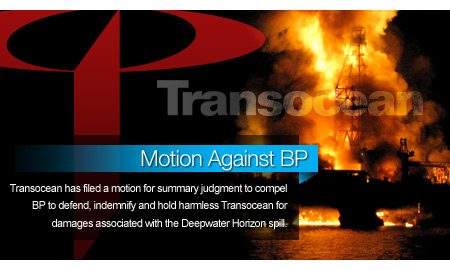 Transocean filed a motion in U.S District Court Tuesday to compel BP to defend, indemnify and hold it harmless for damages related to the Deepwater Horizon oil spill, as stated in a Transocean-issued press release.
Transocean and BP signed a contract in 1998, which was later extended several times, in which BP agreed to "defend, release, protect, indemnify and hold harmless" Transocean for any and all fines and damages associated with environmental pollution stemming from the well.
On the one-year anniversary of the Macondo disaster, BP sued Transocean for $40 billion of alleged damages.
"BP's posture in this matter is not only offensive to the thousands of men and women who work together at Transocean, but it constitutes a direct threat to the sanctity of contracts and to the economic underpinnings of an industry that employs hundreds of thousands of people in the United States alone," said Nick Deeming, Senior Vice President and General Counsel of Transocean.
In an emailed statement, BP spokesman Daren Beaudo said Transocean breached the drilling contract and prejudiced BP in the process.
"To enforce the indemnification would be to allow Transocean to escape the consequences of its actions and avoid meeting its obligations in the Gulf," Beaudo said.
Generated by readers, the comments included herein do not reflect the views and opinions of Rigzone. All comments are subject to editorial review. Off-topic, inappropriate or insulting comments will be removed.
RELATED COMPANIES