Petroecuador, PdVSA to Invest $1.27B in Sacha Oil Field
by Mercedes Alvaro
|
Dow Jones Newswires
|
Tuesday, November 01, 2011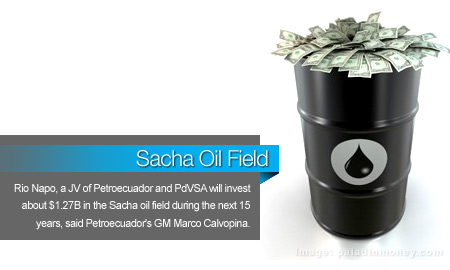 QUITO (Dow Jones Newswires), Nov. 1, 2011
Rio Napo, a joint venture of Ecuador's state-owned oil company Petroecuador and Venezuelan state-run Petroleos de Venezuela, or PdVSA, will invest about $1.27 billion in the Sacha oil field during the next 15 years, Petroecuador's General Manager Marco Calvopina told Dow Jones Newswires.
Petroecuador is the majority shareholder of Rio Napo, with 70% of the shares, and PdVSA has 30%. Petroecuador and PdVSA plan Tuesday to sign an amended contract for the joint venture, which was originally formed in 2009.
In January, Ecuador's Minister of Non-Renewable Natural Resources Wilson Pastor said the contract could be rescinded due to a decline in output tied to a number of problems.
PdVSA is the operator of Rio Napo's Sacha field.
Calvopina said in an interview that the new contract will be signed for 15 years and the field is expected to reach a maximum output of about 64,000 barrels per day in 2013.
Calvopina also said that in addition to the $1.27 billion of investment planned by both state companies, PdVSA will make an additional investment of about $94 million for enhanced oil recovery.
The Rio Napo joint venture is part of strategy to integrate the Ecuadorean and Venezuelan state oil companies that started five years ago with an agreement to swap Ecuadorian oil for Venezuelan diesel and naphtha.
The Sacha oil field, located in Ecuador's Amazon region, has estimated reserves of 491 million barrels of crude oil. Currently Sacha produces about 50,000 barrels of oil per day.
Copyright (c) 2011 Dow Jones & Company, Inc.
Generated by readers, the comments included herein do not reflect the views and opinions of Rigzone. All comments are subject to editorial review. Off-topic, inappropriate or insulting comments will be removed.
RELATED COMPANIES