Expert: Capital Available for O&G Mergers, Acquisitions
by Karen Boman
|
Rigzone Staff
|
Monday, October 31, 2011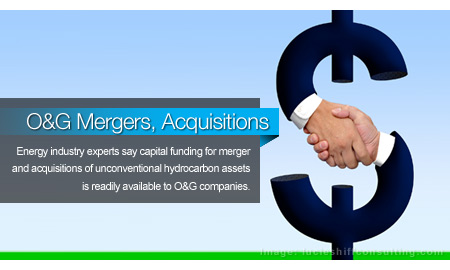 Despite the global macroeconomic uncertainty and political gridlock at home, capital funding for merger and acquisitions (M&A) involving U.S. unconventional hydrocarbon assets is readily available to oil and gas companies at this time, according to energy industry experts at the Rice Energy Finance Summit in Houston on October 27.
The global M&A market has continued to track macro indicators, which have all experienced declines, including a two-year low for consumer confidence. However, M&A activity in the energy sector experienced an uptick this month, with five of the top 10 M&A deals in October done in the energy sector. These deals included Kinder Morgan's US $38.5 billion acquisition of El Paso Corp., which topped the list of M&A deals so far this year.
Energy accounted for 11 percent of the M&A activity overall, smaller in comparison to the industrial sector with 26 percent of M&A activity, but energy typically comprises around eight percent of M&A activity.
North America is expected to have higher M&A activity levels compared with Europe and the rest of the world this year, said Steven Trauber, global head of energy investment banking at Citigroup. While Europe enjoyed strong volumes in this years second quarter, sovereign debt issues are impacting current activity levels.
While Chinese companies have been involved in joint ventures with U.S.-based companies for U.S. unconventional oil plays, companies are starting to look at buying companies outright, as in the case of Statoils acquisition of U.S.-based shale player Brigham Exploration.
Russian companies also are joining the hunt to acquire North American shale assets, along with Chinese and Korean companies, said Trauber. While foreign companies at first pursuing joint ventures with U.S. based onshore players, they are seeking to buy now. These companies view the U.S. as a safe geopolitical environment, and a means of accessing shale drilling technology.
The Bakken unconventional oil play in North Dakota will remain an immediate focus of M&A activity, but Trauber sees a second wave of plays starting to emerge and still sees scope for substantial consolidation and restructuring.
In the past, banks have rarely lost money in oil and gas related transactions, and view them as low-risk.
"Oil and gas companies with a BB rating can easily get financed, whereas a company in another industry with the same rating would struggle to get financing," said Bret West, executive vice president and managing director of the energy services & equipment division at Wells Fargo Energy Group.
Capital will continue flowing to the best opportunities, said Newfield Exploration Chairman, President and CEO Lee Boothby. However, increasing regulation of oil and gas activities will make it more difficult for companies to operate, and could result in capital flowing elsewhere, Boothby noted.
He and other industry leaders speaking at the summit expressed concern over the Obama administrations proposal to slash tax incentives for oil and gas exploration and development as a means of cutting the federal deficit over the next decade.
While the election of a new president with pro-business leaders will help the overall atmosphere, it will still take time for changes to be made that would incentive exploration and production.
Generated by readers, the comments included herein do not reflect the views and opinions of Rigzone. All comments are subject to editorial review. Off-topic, inappropriate or insulting comments will be removed.
RELATED COMPANIES