Ukraine Seeks Energy Independence through Shale
by Jaime Kammerzell
|
Rigzone Staff
|
Friday, October 28, 2011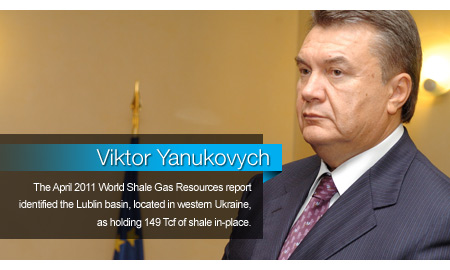 Ukrainian President Viktor Yanukovych is in discussions with Russian President Dmitry Medvedev over gas prices - again.
In September Yabukovych asked Medvedev to lower gas prices that were agreed on in 2009. The current price of $354 per thousand cubic meter (bcm) is too high, according to Yabukvych, and with rising oil prices and winter demand, he expects his country to pay about $400 per cubic meter by the end of the year, which will force the Ukraine to raise domestic gas prices.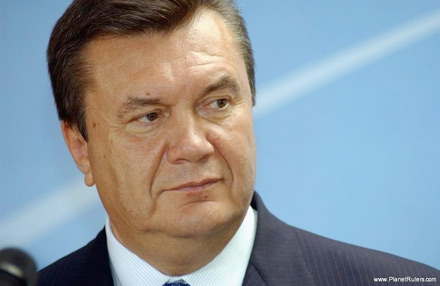 Ukrainian President Viktor Yanukovych
Ukraine is fearful of another "gas war" similar to that in 2009 when Russia's Gazprom shutdown supplies to Europe. However, on September 28, the Gulf Daily news reported that Gazprom's export chief executive Alexander Medvedev said the company sees "no reason" that Ukraine's request for a price cut would lead to a price war.
According to an October 11 Reuters report, "The gas agreements in question were drawn up in strict compliance with the laws of Russia and Ukraine and the applicable norms of international law," the Russian Foreign Ministry said in a statement on its Web site.
Russia suggested that Ukraine agree to join the Customs Union with itself, Belarus and Kazakhstan, thereby prohibiting Ukraine from a free trade deal with the European Union.
But on October 11, Former Ukrainian Prime Minister Yulia Tymoshenko's, who negotiated the 2009 natural gas deal with Russia, was sentenced to seven years in prison for abusing her office position. In response, RIA Novosti reported that Prime Minister Mykola Azarov said he expects to revise the gas import agreement with Russia in the next 10 to 15 days.
However, an October 20 report from OilPrice.com quotes Gazprom CEO Aleksei Miller saying that the discussions will likely go on longer.
"Talks with our Ukrainian colleagues are very active and very positive. But there still remain quite a lot of questions and they are complex. It's obvious that no final agreement will be reached in the next few days. I think that the first results of the discussions will appear in November," Miller said.
Too add to the fire, Russian Prime Minister Vladimir Putin launched the Nord Stream undersea pipeline in September that started pumping gas to Western Europe in October. The new pipeline bypasses Ukraine, rerouting 55 bcm or one third of Russian's European exports.
According to a September 26 Platts report, Ukrainian Energy Minister Yuriy Boyko is not concerned.
"Such a radical scenario is not threatening us because we expect to fill the pipeline with our own gas," Boyko said.
According to the National News Agency of Ukraine, Prime Minister Mykola Azarov said on October 4 that the "production of unconventional gas reserves like shale could serve as an alternative to traditional gas from Russia."
Though the Ukraine depended on Gazprom in the past, the Ukrainian Ministry of Environment and Natural Resources and the National Joint Stock Company (Nadra of Ukraine) claimed in a November 2010 PR Newswire release to possess the world's largest shale gas deposits. A more accurate report in April 2011 from US-based Energy Information Administration said the Ukraine holds Europe's fourth-largest shale gas reserves estimated at 42 Tcf (1.2 Tcm), behind Poland, France and Norway.
However, Ukraine lacks the fracking technology needed to release the trapped gas. On September 1, Dow Jones reported that Ukraine had awarded Shell a contract worth about $800 million for shale gas development. ExxonMobil followed suit on September 28 and Chevron Vice Chairman, EVP – Global Upstream and Gas George Kirkland said at the Barclays CEO Energy Power Conference on September 7 that the company is "in the process of a bid, or trying to get to a bid on some acreage (in the Ukraine)." Ukraine has agreed to allow these majors to explore and develop shale gas deposits in hopes of increasing its domestic gas production.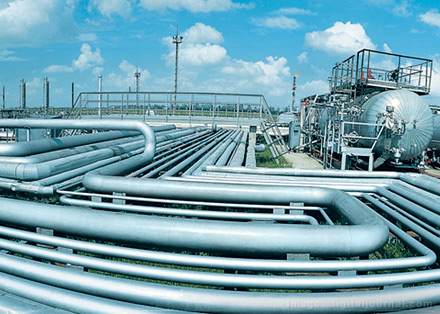 Gas pipelines could soon be transporting Ukrainian gas, not Russian gas.
The majors are expected to use the same successful drilling technologies used in North America. However, a May 2011 Strategic Perspectives of Unconventional Gas paper by Maximilian Kuhn and Frank Umbach reports that Ukrainian drilling specialists have developed a "cavitation hydrovibrator", which is an alternative technology to drill for shale gas. The technology not only fractures rock, but also uses pure pressurized water, no chemicals, to increase the degree of fracking, which makes it an environmentally friendly technology as well.
"According to our estimates, and estimates of companies that have either signed or are about to sign the agreements, we will turn into an exporter of gas within 7 to 10 years," Boyko told Platts.
Ukraine Reserves
The April 2011 World Shale Gas Resources report identified the Lublin basin as holding 149 Tcf of shale in-place. The Lublin basin is in western Ukraine. EuroGas signed a Memorandum of Understanding in September 2009 to explore for unconventional gas in the Lublin basin.
According to EuroGas, the Polish side of the Lublin Basin was highly sought after by the majors in mid-2009 because of its shale gas bearing formation potential similar to that in the US and Canada. In neighboring Ukraine, EuroGas was the first company to successfully drill a coal-bed methane well in the Lublin basin in the late 1990s.
"When we drilled in the Ukrainian portion of the Lublin Basin back in the late 1990s, we saw the huge hydrocarbon potential that existed but that had been neglected by the Soviets. After a long and careful assessment, we are now convinced that this area merits considerable attention and we will be moving quickly to expand our prospect portfolio by assisting Ukraine to develop its own energy resources," EuroGas CEO Wolfgang Rauball said in a 2009 EuroGas press report.
Exploring & Producing
Though European unconventional plays are similar to those in the US and Canada, there are a few hurdles to overcome to bring shale to market. The environmental impact of fracking as well as the cost is prohibiting, but so is the complexity of shale plays in Europe. Kuhn and Umback reference a Wood Mackenzie report explaining that "unconventional gas plays in Europe are likely more complex, deeper and less porous than those in North America."
Regardless, the U.S. fully supports shale gas drilling in Ukraine. During the third session of the US-Ukraine Strategic Partnership Commission in Washington in February 2011, Secretary of State Hillary Rodham Clinton and Ukrainian Foreign Minister Kostyantyn Gryshchenko expressed their support for energy security and development of unconventional gas. The release said, "The United States encouraged Ukraine to restructure the gas sector to help open possibilities for investment in its gas transit system."
Although Ukrainian shale gas development may be in its infancy, the potential world-wide impact is a "game changer" as it threatens Gazprom's position as a major gas supplier to 25 European countries.

Generated by readers, the comments included herein do not reflect the views and opinions of Rigzone. All comments are subject to editorial review. Off-topic, inappropriate or insulting comments will be removed.