Shell Profits Soar As Big Spending Starts to Pay Off
by James Herron & Alexis Flynn
|
Dow Jones Newswires
|
Thursday, October 27, 2011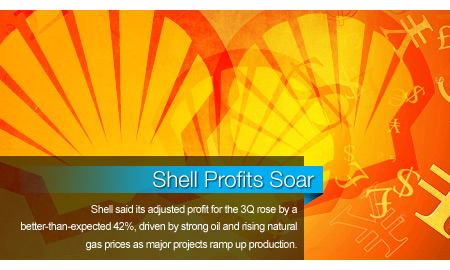 LONDON (Dow Jones Newswires), Oct. 27, 2011
Shell said its adjusted profit for the third quarter rose by a better-than-expected 42%, driven by strong oil and rising natural gas prices as major projects ramp up production.
The results reveal that the company is reaping rewards for heavy investment in new infrastructure, some of which enables it to turn less valuable hydrocarbons like natural gas and oil sands into high quality transport fuels and lubricants.
Shell also said it would continue to dispose of assets that are not essential to its core business. It has sold $6.2 billion of assets so far this year, with $1.8 billion of those sold in the third quarter.
"We continue to make good progress with our strategy--improving our competitive performance, delivering a new wave of production growth, and maturing the next generation of growth options for shareholders," said Shell's Chief Executive Peter Voser.
The company has resumed its share-buyback program, buying $800 million of its shares back during the third quarter while financial markets were weak, Voser said.
The Anglo-Dutch energy company said the clean current cost of supplies, a keenly-watched figure that strips out gains or losses from inventories and other non-operating items, was $7 billion in the three months ended Sept. 30, compared with $4.93 billion in the third quarter of 2010. This was above average expectations of $6.60 billion in a Dow Jones Newswires poll of 10 analysts.
Sales of liquefied natural gas rose 12%, Shell said, mainly due to new contributions from its huge Qatargas 4 LNG plant.
The rise in profitability also reflected a stronger-than-expected performance by the company's refining and marketing business, which contributed $1.81 billion to the net result, underpinned by higher earnings at Shell's chemicals business.
Santander analyst Jason Kenney said Shell had posted "a good set of numbers," highlighting the strong performance of its refining and marketing business and the company's "phenomenal cash flow." Shell's renewed commitment to share buybacks will be appreciated by the market, he said.
"People are looking to Shell for a good financial performance, and that's what they're getting," said Royal Bank of Canada's Peter Hutton.
Shell's oil and gas production totaled 3.012 million barrels of oil equivalent per day in the third quarter, a decline of 2% on the year due to the impact of asset sales. Analysts were expecting production to rise 0.5%. Absent the 100,000 boepd lost due to these divestments, Shell said its production grew 2% on year.
Shell said it continued to benefit from the contribution of new project start-ups like the Pearl gas-to-liquids plant. New field start-ups and continuing growth in output from other fields contributed 270,000 barrels of oil equivalent a day to its quarterly output.
However, production at its Nigerian joint venture fell year-on-year for the first time in two years, signaling a reversal of an encouraging trend of diminishing attacks on oil infrastructure in the troubled Niger Delta. Shell's share of the Nigerian joint venture's output fell 3% to 281,000 boepd, the earnings data showed.
Net profit for the quarter totaled $6.98 billion, more than double the $3.46 billion posted a year ago.
Group revenue was $123.41 billion, compared with $90.71 billion in the third quarter of 2010.
Diluted earnings per share were 112 cents compared with 56 cents the previous year.
Shell B shares were up 29 pence, or 1.2%, at 2348 pence following the earnings release. The stock has risen 9% since the beginning of the year.
Copyright (c) 2011 Dow Jones & Company, Inc.