ConocoPhillips 3Q Profit Falls 16% On Charges; Results Beat Views
by Tess Stynes
|
Dow Jones Newswires
|
Wednesday, October 26, 2011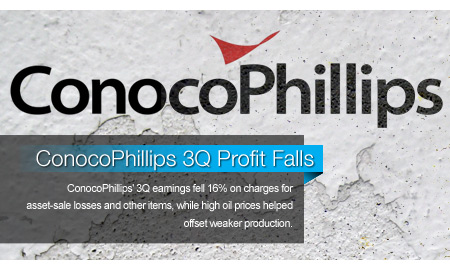 (Dow Jones Newswires), Oct. 26, 2011
ConocoPhillips' third-quarter earnings fell 16% on charges for asset-sale losses and other items, while high oil prices helped offset weaker production and refining margins strengthened.
Shares were up 2% at $72.10 in premarket trading as adjusted results beat expectations. The stock through Tuesday's close is up 3.8% this year.
Conoco is the first of the three largest U.S. oil companies to report third-quarter results, giving a first look at how concerns about global growth will impact a recent streak of soaring profits thanks to high oil prices. ExxonMobil reports Thursday and Chevron reports Friday.
Conoco, which has large refineries in the nation's interior, was expected to continue benefiting from access to West Texas Intermediate crude, which had been less expensive than prices for Brent crude, thanks to a glut at the Cushing, Okla. energy hub. However, the price gap separating the U.S. benchmark WTI and its European counterparts has fallen since Monday, posing a challenge in the current quarter.
The company in July unveiled plans to split its refining and production arms into two separate companies, following other energy companies that have separated their exploration and production businesses from the rest of their operations. The break up is expected to close in the first half of next year.
Conoco reported a profit of $2.6 billion, or $1.91 a share, down from $3.1 billion, or $2.05 a share, a year earlier. The latest period included $837 million in charges, mostly related to asset-sale losses, write-downs and a U.K. tax-law change. Excluding those impacts and prior-year gains from asset sales, earnings were up at $2.52 from $1.50. Revenue increased 28% to $63.63 billion.
Analysts polled by Thomson Reuters most recently forecast earnings of $2.18 on revenue of $63.19 billion.
At its exploration and production unit, earnings rose 13% mostly on stronger higher prices as production declined, mainly because of suspended operations in Libya and Bohai Bay. Refining and marketing segment nearly tripled amid stronger margins.
Copyright (c) 2011 Dow Jones & Company, Inc.
RELATED COMPANIES