O&G Producers Studying Europe's Shale Gas Potential
by Karen Boman
|
Rigzone Staff
|
Thursday, October 27, 2011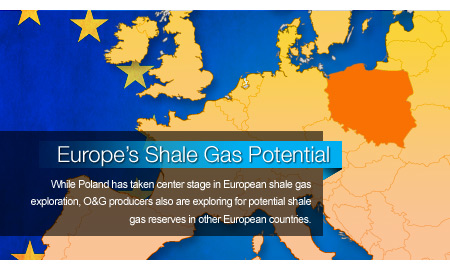 While Poland has taken center stage in European shale gas exploration, oil and gas producers also are exploring for potential shale gas reserves in other European countries.
"Unconventional gas volumes in Europe have the potential to stabilize domestic supplies in the face of declining conventional production, and in doing so could reduce dependencies and help diversify the energy mix," said Maximilian Kuhn and Frank Umbach, authors of a study from the European Centre for Energy and Resource Security (EUCERS).
In the report, Strategic Perspectives of Unconventional Gas: A Game Changer with Implication for the EU's Energy Security, the authors noted that European shale gas could help break Europe's dependence on gas imports from Russia and the Middle East.
Besides Poland, which is estimated to have 187 Tcf of recoverable shale gas resources, and France, where a ban on hydraulic fracturing has resulted in some shale exploration permits being cancelled, concessions for shale gas test drilling have been granted in the Netherlands, Germany, UK, Sweden, Hungary, Switzerland, and Ukraine, according to a U.S. Energy information Administration (EIA) report on global shale gas resources released in April.
Producers also are exploring for shale gas in other European countries. In Spain, Realm Energy International Corporation will explore for shale gas in the two six-year permits the company was awarded earlier this year. The permits cover 212,099 acres in the Cantabrian Basin of Northern Spain.
Realm believes the shales in all concessions are thermally mature and may be prospective for natural gas production. Initial analysis of existing well logs indicates that primary targets are likely to be Eocene, Cretaceous and Carboniferous shales at depths ranging from 6,000-11,000 feet.
According to media reports, Basque Regional Premier Patxi Lopez said last week that 13 unconventional gas holdings of 180 Bcm have been found in the Gran Enara field, located in the Alva province in Basque Country.
Chevron reported earlier this year that it is exploring Eastern Europe's shale gas potential in Romania and Bulgaria. In Romania, the company began a seismic acquisition program in August and, over the next year, will continue to progress technical work as it evaluates this opportunity. In Bulgaria, the company plans to begin seismic acquisition next year.
LNG Energy is also exploring for shale gas in northwestern Bulgaria. The company in late August reported it had entered an agreement to drill and test an exploratory well targeting the Middle Jurassic Etropole Shale.
The Czech Republic's Environment Ministry said in August it planned to commission a survey to determine shale gas levels, and British companies Cuadrilla and Basgas have submitted applications to start researching supplies in the coming months, according to a report by the Prague Post.
Swedish gas exploration company Gripen Gas AB will explore for unconventional shale gas in the organic rich Alum shale formation on five exploration licenses totaling 186 square kilometers on Oland in Kalmar County, southern Sweden. The company was awarded the five licenses in July.
Gripen is planning to start some shale drilling activities soon, according to a spokesperson with the Mining Inspectorate of Sweden. Gripen and a second company, Energigas i Östergötland AB, have exploration permits for shale exploration in Sweden at this time.
Gripen Chairman Torgny Berglund said the company's preliminary studies show that the Alum Shale could yield sufficient gas to generate power with the added upside of stratigraphically trapped hydrocarbons in the Cambrian sandstones. "The numerous shows indicate an active petroleum system with both conventional and unconventional trapping mechanisms."
Moreover, some of the most promising European shale's are offshore in the North Sea, and offshore production of shale gas has not been tried yet, which is more likely an issue of economics than of technology, according to the EUCERS report.
Shale Gas Exploration Sparks Controversy in Germany, Switzerland
However, controversy over hydraulic fracturing has sparked environmental and safety concerns in Germany and Switzerland, according to media reports.

View Europe's Shale Gas Potential in a larger map
ExxonMobil, which has licenses covering several million acres on which the company has been drilling and evaluating coal bed methane and shale gas resources, and other producers exploring for shale gas have faced opposition from local residents concerned about the impact of hydraulic fracturing activity on local water supplies or potential for earthquakes. According to media reports, Germany's Environment Minister Norbert Rottgen ordered a review of shale production's environmental impact in Germany following protests.
The state government of North Rhine-Westphalia also issued a moratorium in March on shale gas drilling due to pressure from environmental activists. Germany's Federal Environment Agency also has proposed issuing new mining laws that would ensure producers assess the environmental impact that each shale gas exploration well would have and ban fracking in areas where potable water is collected.
German oil and gas producer association WEG said in August that the existing mining laws already allowed enough protection for groundwater. WEG noted that approximately 300 deep wells have been drilled in Germany since June 1961, and that the fracturing process had not had any known adverse impacts on groundwater.
In April, the State Council of Switzerland's Fribourg Canton suspended all hydrocarbon exploration in the area for an indefinite period. A permit issued in 2008 to exploration company Schuepbach Energy, which was set to expire this year, was suspended, and no drilling permit was issued.
"The environmental consequences of extraction of hydrocarbons, including the extraction of shale gas, have not yet been clearly identified," according to a statement on the state's website.
Questions Need Answering to Realize European Shale Gas Potential
The groundwork for an expanded role of gas in the global economy has been established with the demand decline linked with the global recession, an increase in U.S. unconventional shale gas production, and the arrival of new liquefied natural gas (LNG) delivery capacity.
Theoretically, European recoverable shale gas reserves, which are estimated between 33 Tcm and 38 Tcm, could cover European gas demand for another 60 years. However, significant unconventional gas production in Europe is not expected to materialize before 2020.
A major obstacle to shale gas drilling in Europe is environmental concerns about hydraulic fracturing and its impact on the quality and quantity of local water supplies. Compared with the U.S., however, European unconventional gas resources are located more deeply and beneath groundwater, which raises exploration costs but lowers groundwater containment risk, the EUCERS report authors note.
They also pointed out that 70 percent of fracturing water used in most shale plays can be reused, and that technological improvements now make it possible to use water from brackish aquifers.
Still, a number of questions must be answered before shale gas potential can be fully realized, such as Europe's future energy market structure, the regulatory environment, political risk, investor confidence, public acceptance and competition with other fuels, especially renewables, according to the EUCERS report.
The density of Europe's population is a main factor, with environmental concerns needing to be addressed "as public acceptance will be the main issue for future unconventional gas development."
Unlike the U.S., where individual landowners control their mineral rights on their properties and receive revenues from development of their resources, the governments in European countries receive these royalties. This means landowners have less incentive to be inconvenienced by drilling if they cannot gain any profit from their subsoil's minerals.
While Europe's gas distribution infrastructure is well developed, the services sector that would support an unconventional gas industry is not, for which sub-contractors are already preparing for an anticipated increase in the level of activity.
"In addition, Europe also lacks suitable technical equipment, such as drilling rigs, and has extensive state control over local rig markets that reduces competition and leads to higher costs," the EUCERS report authors noted.
Additionally, unit supply costs, environmental regulation, pricing mechanisms, and market structures in Europe are different from those in North America, which will make the less- and knowledge-transfer between the continents difficult.
Generated by readers, the comments included herein do not reflect the views and opinions of Rigzone. All comments are subject to editorial review. Off-topic, inappropriate or insulting comments will be removed.
RELATED COMPANIES