CNOOC: Some Approvals on Pan American Acquisition Not Received
by Joanne Chiu & Alexis Flynn
|
Dow Jones Newswires
|
Tuesday, October 25, 2011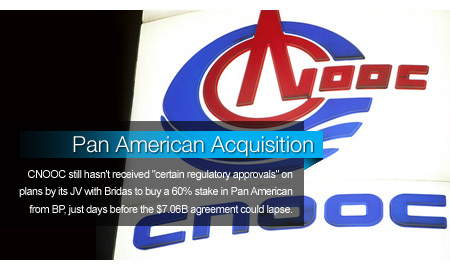 HONG KONG (Dow Jones Newswires), Oct. 25, 2011
CNOOC said Tuesday that it still hasn't received "certain regulatory approvals" on plans by its joint venture with Bridas Energy Holding Ltd. to buy a 60% stake in Argentine crude producer Pan American Energy from BP, just days before the US $7.06 billion agreement could lapse.
China's biggest offshore oil producer said in a statement that the deadline for approval on the Pan American Energy acquisition from BP is Nov. 1, with each party in the proposed acquisition having a right to terminate the deal "unless all parties agree otherwise to an extension of time."
The CNOOC statement said the seller has to repay a deposit of US $3.53 billion to the joint venture, Bridas Corp., if the deal falls through.
Should the pact not receive approvals by the deadline, or be extended, it would be a rare setback for CNOOC, and China, in efforts to buy overseas oil and gas assets.
The statement on the approaching deadline comes two days after Argentine's populist President Cristina Kirchner was re-elected by a wide margin.
BP Chief Executive Bob Dudley told reporters that he "fully expects" the deadline for its Pan American Energy stake sale to be extended beyond the early November timeline.
Dudley pointed to Argentina's recent presidential elections and said it was unlikely approval will be received by the end of this year and that he was confident approval would come some time next year.
Dudley said it wasn't essential to BP's future that the deal went ahead, but added he still "fully expected" the deal to conclude.
A CNOOC official, who declined to be named, said the company's announcement on the Hong Kong stock exchange was "standard procedure."
BP agreed in November last year to sell its 60% stake in Pan American Energy to Bridas Corp. The deal included a 12-month period to finalize details and obtain regulatory approval.
BP has been selling assets to raise cash to cover the cost of its massive oil spill in the Gulf of Mexico.
Pan American's main assets are in Argentina, where it is the second-largest producer of oil and gas. The company also has interests in oil and gas transportation, oil storage and loading, gas distribution and power generation.
CNOOC had a very high-profile rebuff on an even larger deal back in 2005 when its attempts to buy California-based Unocal Corp. were blocked following a nationalistic political uproar in the US.
China's last large-scale overseas energy acquisition was just two weeks back, when unit of China Petrochemical Corp., or Sinopec, agreed to buy Daylight Energy Ltd., a Canadian oil and natural-gas producer, for C$2.2 billion (US $2.12 billion).
Copyright (c) 2011 Dow Jones & Company, Inc.
Generated by readers, the comments included herein do not reflect the views and opinions of Rigzone. All comments are subject to editorial review. Off-topic, inappropriate or insulting comments will be removed.
RELATED COMPANIES