Industry Questions Need for National Wastewater Standards
by Matthew V. Veazey
|
Rigzone Staff
|
Tuesday, October 25, 2011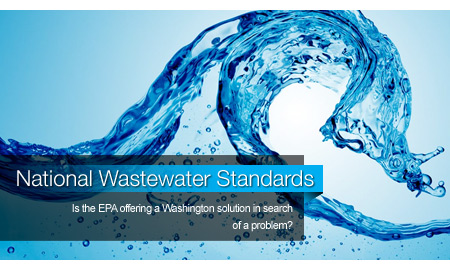 Last Thursday, the U.S. Environmental Protection Agency (EPA) announced that it will soon begin the process of developing "comprehensive" national standards for wastewater discharges produced by extracting natural gas from underground coalbed and shale formations.
In a written statement released by the agency, the EPA noted that proposed standard will include input from federal and state governments, industry and public health groups. EPA Administrator Lisa P. Jackson contends this latest action is necessary "to make sure the needs of our energy future are met safely and responsibly."
Federal laws prohibit the direct discharge of wastewater from hydraulic fracturing into waterways and other waters of the U.S. "Fracking" is key to the economic recovery of shale gas. Although companies do reuse or re-inject some wastewater into subsequent shale gas wells, there are cases where the wastewater must be transported to treatment facilities.
EPA contends that many of these treatment plants are ill-equipped to handle this type of wastewater. As a result, the agency will consider enacting standards that shale gas wastewater must meet before delivery to a treatment plant. EPA expects to unveil a proposed rule for shale gas wastewater in 2014. In the interim, it will continue to gather data, consult with industry representatives and other stakeholders and solicit comments from the public about the matter.
In regard to wastewater from coalbed methane (CBM) extraction operations, individual states—not the federal government—set regulations applying to its direct discharge into waterways and pre-treatment. EPA plans assert federal authority over this aspect of CBM production by proposing uniform national standards, which the agency anticipates proposing in 2013.
Industry's Response
The Pittsburgh-based Marcellus Shale Coaltion, which in its three-year history has established itself as a key voice for developing the Marcellus Shale play in an environmentally responsible manner, expressed bewilderment at the EPA's regulatory plans.
"While we certainly appreciate that the EPA shares our concern in protecting the environment, especially water, it is baffling that the agency would move forward with such measures that completely disregard the facts on the ground," said Kathryn Klaber, the coalition's president. "This is yet another Washington solution in search of a problem, as treated Marcellus water in Pennsylvania is no longer discharged into surface waters."
Another prominent industry voice, the American Petroleum Institute (API), maintains that operators' existing ties with state regulators have allowed them to tailor localized, effective approaches to managing produced water.
"As an industry, we work with state regulators directly to minimize environmental impact during the acquisition of water for drilling, water use during fracking operations and treatment and disposal of water and other fluids recovered after the well is completed," said Reid Porter, API spokesman. Porter added that industry has also increasingly integrated another environmentally friendly process into its operations: recycling produced water.
"API has developed guidelines for water management as one of a number of industry-developed standards designed to make hydraulic fracturing as safe and efficient as possible," noted Porter. "This current system of regulation already accounts for the fact that there is wide variability in the volume, regional environmental conditions and available management methods for produced water and the state regulators — who are in the best position to craft guidelines for their geography — are highly involved."
Back to the Blueprint
A driving force behind EPA's pending proposed standards is President Obama's Blueprint for a Secure Energy Future released earlier this year. It called on the Secretary of Energy Advisory Boar (SEAB) to form a Natural Gas Subcommittee that would recommend practices to improve the safety and environmental performance of fracking. The subcommittee released a preliminary report in August that presented the following findings and recommendations:
Create a publicly accessible portal containing current data from state and federal regulators to disseminate information about shale gas operations and results.
Improving communication among state and federal regulators by continuing to support both the State Review of Oil and Natural Gas Environmental Regulation (STRONGER) and to the nonprofit Groundwater Protection Council to expand the Risk Based Data Management System.
Improve air quality by adopting "rigorous standards" for new and existing sources of methane, air toxics, ozone precursors and other emissions from shale gas operations.
Protect water quality by adopting a water management approach based on consistent measurement and public disclosure of the flow and composition of water at every stage of the shale gas production process.
Acknowledging the "remote" likelihood that fracturing fluid would leak into drinking water sources via fractures made in deep shale reservoirs, the subcommittee endorses disclosing the composition of fracturing fluid save for information that is "genuinely" proprietary.
Using natural gas engines or electricity instead of diesel engines for surface power in shale gas production.
Plan for shale development impacts on communities, land use, wildlife and ecologies on a regional scale. Possible ways to do this include using multi-well drilling pads to reduce transport traffic and new road construction, evaluating water use at the scale of affected watersheds and having regulated entities provide formal notification of anticipated environmental and community impacts.
Creating a "shale gas industry production organization" to continuously improve best practices in order to improve operational and environmental results, particularly in regard to air and water.
Setting a mission for federally funded unconventional gas research and development, particularly in regard to basic R&D, environmental protection and safety. The subcommittee also urges the Executive and Legislative branches of the federal government to provide "level funding" for such federal involvement.
The subcommittee plans to release its final report on November 18, 2011.
The EPA's pending regulatory action corresponds to the agency's effluent guidelines program, which sets national standards for industrial wastewater discharges. For background information on the program, see here.
Generated by readers, the comments included herein do not reflect the views and opinions of Rigzone. All comments are subject to editorial review. Off-topic, inappropriate or insulting comments will be removed.