Toreador to Kick-Off French Shale Section Exploration
by Barbara Saunders
|
Rigzone Staff
|
Monday, October 24, 2011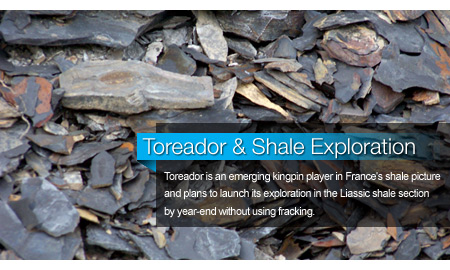 Paris-based Toreador Resources, which is amid a merger with ZaZa Energy, is an emerging kingpin player in France's shale picture – and plans to launch its initial exploration with its 50-50 partner, Hess Oil France, in the Paris Basin's Liassic shale section by next year without using the controversial hydraulic fracturing ("fracking") process.
France's legislature gave final approval to ban fracking in June. Meanwhile, the nation's executive branch recently pulled the permits of Total and Schuepbach Energy to explore for shale gas in the Montelimar play in southern France. The permits were withdrawn because the government said that the two companies planned to use fracking , which involves pumping water, sand and chemicals at high pressure into shale rock at horizontal intervals to stimulate the flow of oil and gas. Concerns are rampant in both the U.S. and Europe that this will lead to groundwater contamination, among other problems, although no such contamination has yet been documented.
Toreador's Paris Basin Holdings
Although this would change radically under the proposed merger with Houston-based independent ZaZa, Toreador's primary holdings currently lay within the Paris Basin. The company says that it is the largest acreage holder in the basin, with about 1 million acres leased and pending. The company produces about 880 barrels per day of conventional oil, with cumulative production of some 34 million barrels.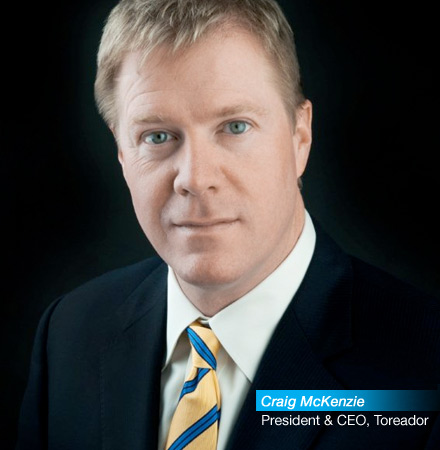 "That's not a very large rate, but the margins are very good here and it's able to help us have a sustainable base," said Craig McKenzie, president and CEO of Toreador, at a September meeting of the Independent Petroleum Association of America (IPAA) in San Francisco.
"We have built up a conventional inventory that is significant, and we'll be able to execute against it here in short term."
Toreador holds a 100 percent working interest in two mature Paris Basin oil fields, which it exploits using infill drilling and applies "Permian Basin know-how." In terms of Paris Basin conventional exploration, it anticipates a one-rig program with joint venture partner Hess by late 2011, with 40 million barrels of identified oil targets.

But like many companies these days, Toreador is staking its future in shale regions, both in France's Paris Basin and Texas' Eagle Ford – dubbed by the Bloomberg business newswire as a "baguette and barbeque" strategy.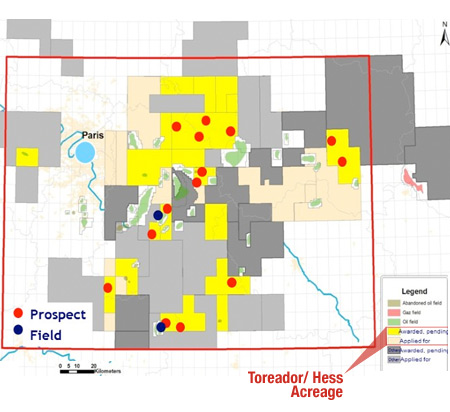 "Independent estimates show that more than 250 billion barrels of oil equivalent are estimated to be recoverable in the US and Europe combined; 40 percent of that is found in Europe, and of that, a good third of that is France," McKenzie told the IPAA meeting. "In terms of France, 31 billion barrels of oil equivalent and the shale gas potential there. And in the Paris Basin specifically, we're talking about 5 billion barrels of expected recover at a 5 percent recovery, which is a bit more modest than say the Bakken."
McKenzie also described the basin's features thus: "In terms of just the geologic setting, it's a pretty simple setting with a basin that looks not terribly dissimilar to the Williston in terms of it's a lot of lateral continuity … [in the] Liassic Source rock. It's about three times thicker than the source rock in the Williston or than the Bakken and it's got multiple zones for setting and/or landing horizontals.
"So you've got your shale, your packages, and then your tight rock. And they're sandwiched in between all of the conventional reservoirs that are in the basin. It's over 50 fields of which about 36 are still producing in the basin. Lots of data -- lot of history here," McKenzie said.
Exploration Plans
Toreador plans to forge ahead with "proof of concept" exploration of its holdings in the Liassic Section by year-end 2011. It specifically plans to drill between four and six wells targeting tight rock formations, which will enable the company to avoid fracking.
Stated McKenzie after a February, 2011 meeting with France's ministers for energy and the environment:
"It is important to bear in mind that our project represents a renaissance for the Paris Basin oil industry. What we are pursuing is not oil shale, which is essentially strip-mining, nor is it gas shale. We are focused on determining the commercial viability of recovering oil from tight rock within the Liassic shale in the Paris Basin (2,300 to 3,000 meters of depth). We note the joint Ministry press release issued on February 11, 2011 that Vermilion Energy Inc. is currently producing approximately 63 barrels of oil per day from two previously stimulated vertical wells in the Liassic shale. From the company's past reports we understand one well was stimulated about a year ago and the other last fall. We view this as very positive data indeed, which supports the concept that the Liassic section can sustain oil production."
Eagle Ford and Eaglebine Plans
Toreador will leverage proposed merger partner ZaZa Energy's substantial assets in the high-potential Eagle Ford and Eagle Woodbine ("Eaglebine") plays.
As of the early August merger plan announcement, ZaZa had three rigs running, which it operates, in the core Eagle Ford joint venture area. ZaZa has a total of 14 wells drilled in Eagle Ford; six are producing. The company plans to expand to 12 rigs by 2013. In terms of the cumulative total number of wells drilled, Toreador expects 30 by year-end, 100 by 2012 and 150 by the end of 2013.
In Eaglebine, Toreador plans a one-rig program by 1Q 2012 with nine target horizons.
Generated by readers, the comments included herein do not reflect the views and opinions of Rigzone. All comments are subject to editorial review. Off-topic, inappropriate or insulting comments will be removed.