Chevron Starts Gas Output at $3.1B Thailand Platong II Project
by Oranan Paweewun
|
Dow Jones Newswires
|
Monday, October 24, 2011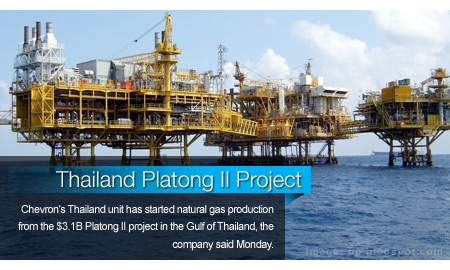 BANGKOK (Dow Jones Newswires), Oct. 24, 2011
Chevron's Thailand unit has started natural gas production from the $3.1 billion Platong II project in the Gulf of Thailand, the company said Monday.
This will increase Thailand's domestic production by more than 10% and boost Chevron's net natural gas output from the Gulf of Thailand, where it has been operating for 30 years, by more than 20%.
"We will run the Platong II project at a capacity of 330 million standard cubic feet a day [in line with] contractual obligations. And if PTT wants us to deliver more, we're ready to do so," Chevron Asia South Managing Director Joseph Geagea told Dow Jones Newswires.
Platong II, in shallow water 200 kilometers from Thailand's southern coast, has a maximum processing capacity of 420 mmscf/d. It is also expected to produce 18,000 barrels a day of natural gas liquids.
Chevron recently agreed with Thailand's Ministry of Energy to increase its overall contracted quantity of natural gas by 500 mmscf/d to 1.2 billion by 2012 from company-operated offshore blocks 10, 11, 12 and 13. Platong II is likely to be a major source for this.
California-based Chevron originally planned to start commercial gas production at Platong II in 2012, but this was brought forward to meet rising energy demand in Thailand.
Chevron's Thai subsidiary is the operator and holds a 69.8% stake in Platong II. Other shareholders are Mitsui Oil Exploration Co., with 27.4%, and PTT Exploration & Production PCL (PTTEP.TH), with 2.8%.
Apart from gas, in 2010 Chevron produced 70,000 barrels of crude oil and condensate in Thailand.
Geagea said Chevron can supply an additional 170 mmscf/d of gas next year to PTT by ramping up capacity at existing gas fields in Thailand.
Chevron Vice Chairman George Kirkland said in a statement to mark the startup that Asia is becoming "the center of global energy demand growth. Platong II is one of Chevron's many developments in the region that will allow us to supply safe, reliable, and affordable energy to meet this need."
Chevron still hopes to make an investment decision by the end of 2011 on a big Vietnam gas project and is awaiting government approvals for an offshore project in Cambodia, where it has drilled three successful wells.
The company plans before the end of December to start drilling its first southern China exploration well, some 300 kilometers from Hong Kong, in one of three offshore China blocks it acquired from Devon Energy in 2010.
Other major Chevron projects in Asia include the joint development of a block covering nearly 2,000 square kilometers in Chuandongbei in central China and the offshore Indonesia Gendalo-Gehem project which Chevron previously costed at between $6 billion and $8 billion.
Copyright (c) 2011 Dow Jones & Company, Inc.
Generated by readers, the comments included herein do not reflect the views and opinions of Rigzone. All comments are subject to editorial review. Off-topic, inappropriate or insulting comments will be removed.
RELATED COMPANIES