Uganda Ruling Party Lawmakers Vote to OK Tullow Oil Deal
by Nicholas Bariyo
|
Dow Jones Newswires
|
Monday, October 24, 2011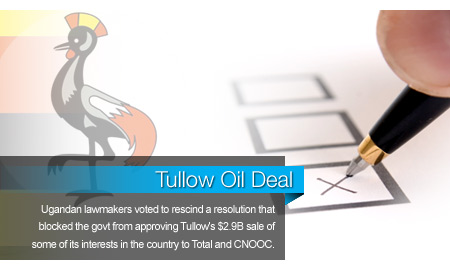 KAMPALA (Dow Jones Newswires), Oct. 24, 2011
Ugandan lawmakers from the ruling National Resistance Movement party Saturday voted to rescind a resolution that blocked the government from approving U.K.-based Tullow Oil's $2.9 billion sale of some of its interests in the country to France's Total and China's Cnooc, officials said Monday.
Parliament still has to approve the motion, which will likely be presented Tuesday. Of the 374 lawmakers in the Ugandan parliament, some 276 are from the ruling party and all are bound by Saturday's resolution.
Lawmakers also agreed to recall a resolution seeking that three ministers--Foreign Affairs Minister Sam Kutesa, Prime Minister Amama Mbabazi and Internal Affairs Minister Hilary Onek--resign over bribery accusations, David Bahati, chairman of the ruling party parliamentary caucus, said.
The accused ministers will be investigated but the caucus resolved that they shouldn't resign until "the truth from the investigation dictates otherwise," Bahati said.
Earlier this month, Ugandan lawmakers from across the political spectrum supported a motion delaying Tullow's deal to sell two-thirds of its Ugandan interests, amid graft allegations and tax disputes. They also voted to place a moratorium on the signing of new oil sector deals until necessary legislation is in place to regulate the oil industry.
A lawmaker who attended Saturday's meeting told Dow Jones Newswires that President Museveni asked those present to rescind the delay, saying that the move is likely to hurt investor confidence in Uganda and hamper the collection of taxes from the transaction.
Some described the development as an attempt by the executive to compromise the independence of parliament.
"Everyone in government seems indebted to the president; until we hear him speak there can't be a final position," said Nicholas Sengoba, a political analyst in Kampala.
Tullow had hoped to conclude the sale of its assets in September, but this was put on hold after government contested the inclusion of stabilization clauses in the joint venture oil production sharing agreement.
A Tullow spokesman couldn't comment immediately.
Uganda has discovered around 2.5 billion barrels of oil along its western border with mineral-rich but lawless Eastern Congo. Tullow, Total and Cnooc are expected to invest at least $10 billion to develop the oil fields, which are believed to contain as much as 6 billion barrels of oil, according to Ugandan geologists.
Copyright (c) 2011 Dow Jones & Company, Inc.
RELATED COMPANIES