Shale Gas a Major Contributor in Reducing Greenhouse Gas Emissions -API
by Barbara Saunders
|
Rigzone Staff
|
Friday, October 21, 2011
Natural gas from shale formations represented a walloping $37 billion of the overall $108 billion that the petroleum industry invested in technologies to reduce greenhouse gas (GHG) emissions between 2000 and 2010, according to a new report released by the American Petroleum Institute (API) on October 20.
This $108 billion also comprised nearly half of the total estimated $225 invested by all private industry combined and the federal government in GHG-reducing technologies, noted Kyle Isakower, VP of Regulatory and Economic Policy for API. The new report showed a major uptick in such investments from the 2008 study due to the inclusion of shale gas and an increase in federal government spending on GHG emission reduction, Isakower added.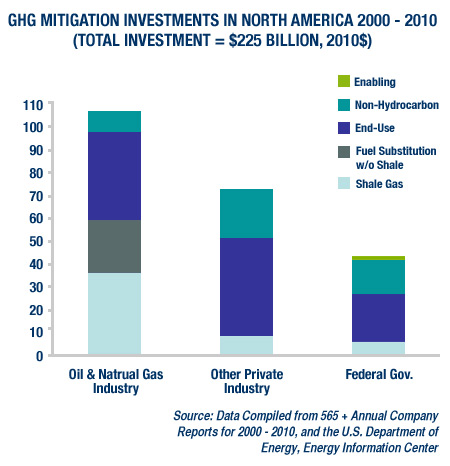 "Major investments by the oil and natural gas industry included shale gas (especially over the 2009-2010 period), efficiency improvements including combined heat and power, and advanced technology for vehicles. Investments in wind, biofuels and solar were also made," said the study, which was conducted for API by T2 Associates.
"Other private industries' major investments included advanced technology vehicles, efficiency improvements in electricity generation, biofuels, wind and solar," the report continued. "The federal government has spread investment across all technology categories with major investments in energy efficient lighting, wind, solar, biofuels and basic research. It also made significant investments in renewables and efficiency during 2009 and 2010 as part of the American Recovery and Reinvestment Act of 2009 (ARRA)."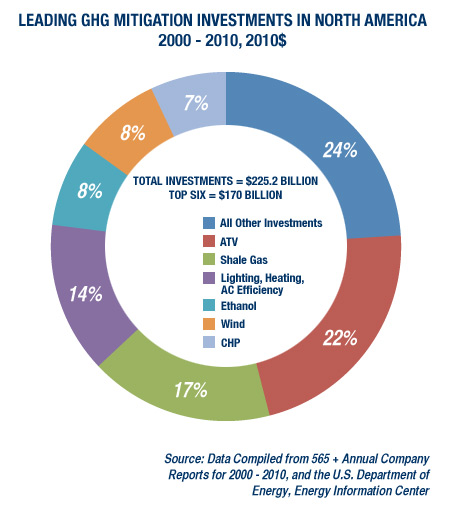 Technologies' Shares of Investment
Six emission reduction technologies led the way in public and private investment. As measured by expenditure share, these were:
Advanced technology vehicles (ATV), 22 percent of total investment or $49.5 billion;
Shale gas, 17 percent or $37.7 billion;
Energy efficiency, 14 percent or $30.7 billion;
Ethanol, 8 percent or $18.4 billion;
Wind, 8 percent or $17.4 billion; and,
Combined heat and power CHP), 7 percent or $16.3 billion.
These six technologies comprised 76 percent of the estimated total investments, or $170 billion, between 2000 and 2010 period in North America, the report said. Meanwhile, all other technologies (including LNG, fugitive gas reduction and nuclear energy) combined were 24 percent of the estimated total investments.
Emissions-Reducing Impact
Picture 11 million cars off the roads. That's the impact that the above efforts represented just last year, in reducing some 56 million metric tons of greenhouse gas emissions, said API's Isakower.
Specifically, the report noted that fuel substitution accounted for 38 to 46 percent of the emissions reductions between 2008 and 2010. This included projects such as installing better plunger lift seals and improved well completion technology. Another 35 to 45 percent of the reductions came from combined heat and power, also known as cogeneration, projects over the same period. Remaining reductions occurred in the non-hydrocarbon areas, including solar and wind energy for electricity generation, as well as biofuels production.
Generated by readers, the comments included herein do not reflect the views and opinions of Rigzone. All comments are subject to editorial review. Off-topic, inappropriate or insulting comments will be removed.