Barclays: Gadhafi's Death Likely Positive for Libya Oil Production
by Karen Boman
|
Rigzone Staff
|
Thursday, October 20, 2011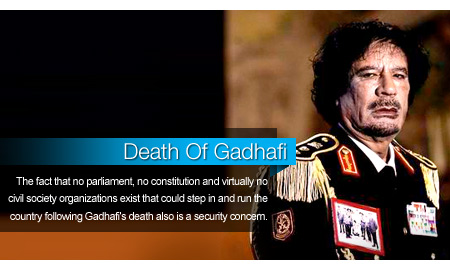 The death of Libyan dictator Muammar Gadhafi will likely be viewed as a positive development for Libya's oil production outlook, according to an analysts note from Barclays Capital Thursday.
Barclays is maintaining its view that, while Libya can bring on .5-.6 mb/d of production by year-end and potentially more production by first quarter 2012, "the road to the return to pre-war levels remains a treacherous one."
The reduction of violence could entice international oil companies to return to areas that have been Gadhafi strongholds.
"The disruption from violence surrounding the resumption of output could easily benefit oil companies and speed up some of the production re-starts," Barclays analysts Helima L. Croft and Amrita Sen noted.
However, with fractions within the National Transitional Council still very large, a safe and secure environment for operation is still far from reality.
Securing weapons from Gadhafi's stockpiles continues to be a major security challenge for the NTC and its NATO allies. The disappearance of thousands of shoulder-fired missiles also has caused concern, as they require no special training to operate.
The fact that no parliament, no constitution and virtually no civil society organizations exist that could step in and run the country following Gadhafi's death also is a security concern.
Currently, Libya's oil ministry is overseen by Ali Tarhouni, who doesn't have an oil-industry background and is also in charge of Libyan finance.
Libyan Oil Production Ramping Up; Infrastructure Damage Variable
The death of Gadhafi changes very little in the underlying dynamics of the oil picture on the ground, the analysts said. Oil production is being ramped up at Libya's eastern and western oil fields; the bulk of the current production of .4 mb/d is being used to feed the domestic market.
Damage to oil infrastructure is extremely variable, with companies having reported a wide degree of issues in restarting production.
"In short, there are many unknowns still regarding the actual situation in the oil fields," Barclays analysts said.
Companies returning to Libya still need to ascertain the potential loss of reservoir pressure from emergency shutdowns undertaken in February/March.
Some mature Libyan oil fields, such as those of the Sirte basin, require water or natural gas injection to maintain pressure in the reservoir. The fact that this has not been done for over six months means the risk for failure on this front remains high.
Oil terminals also have been damaged, and looting has led to significant losses of machinery such as power generators, pumps and trucks from oil fields. Looting by Gadhafi loyalists may continue, even with Gadhafi, and sabotages and dousing fires could cripple ongoing efforts to repair wellheads.
Kassel, Germany-based producer
Wintershall reported Tuesday
that it had restarted its oil production in the Libyan desert in Concessions 96 and 97. Wintershall had ramped up production to 20,000 b/d and was planning to technically stabilize production.
The company's production facilities were undamaged by the civil unrest, and infrastructure for transporting oil to the Mediterranean Sea was determined to be in working order.
The company had shut in production of around 100,000 b/d in February from eight onshore fields approximately 1,000 kilometers southeast of Tripoli. Gazprom holds a 49 percent share in Wintershall's production operations onshore Libya.
Production also began a few weeks ago from the offshore platform Al Jurf in the Mediterranean. Wintershall holds a 6.75 percent stake in Block C 137; Mabruk Oil is operator with 73 percent interest.
Yergin: Death to Have Limited Impact on Energy Markets
IHS CERA Chairman Daniel Yergin expects news of Gadhafi's death to have limited impact on energy markets that had already factored in the scenario of Gadhafi's demise.
"The writing had been on the wall for some time in this conflict, and Libyan oil production had already started to recover from the near total disruption that occurred at the height of the civil war," Yergin said.
"The news of Gadhafi's death will certainly send a collective signal that the next phase in Libya's national recovery can now begin. But in terms of physical oil production there is not much that can be done in the short term that is not already being done."
Dow Jones Newswires writer Benoit Faucon contributed to this story.
Generated by readers, the comments included herein do not reflect the views and opinions of Rigzone. All comments are subject to editorial review. Off-topic, inappropriate or insulting comments will be removed.