What's Happening in the Autumn Oil Market, Anyway?
by Barbara Saunders
|
Rigzone Staff
|
Tuesday, October 18, 2011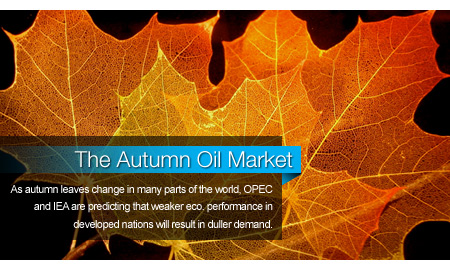 As autumn leaves change in many parts of the world, both OPEC and the International Energy Agency (IEA) are predicting that weaker economic performance in developed nations will result in duller demand than previously forecasted. Even in the more robust economies of China and India, OPEC sees factors that could dim demand over previous projections.
OPEC's monthly oil market report, released on October 14, projected that world economic growth will remain unchanged at 3.6 percent in 2011 and revised 2012's forecast down to 3.7 percent.
"At least for now, the deceleration of global output seems to have stabilized, although many risks remain, particularly in the Euro-zone," the report said. It predicts that:
The US economy will grow at 1.6 percent in 2011 and at 1.8 percent in 2012.
The Euro-zone will expand by 1.6 percent in 2011, but by only 0.8 percent in 2012.
Japan's economy will recover by 2.4 percent in 2012, after a contraction of 0.8 percent in 2011.
"However, the magnitude of the recovery remains uncertain," the report cautioned.
By contrast, growth levels in developing countries will remain relatively high, OPEC reported. OPEC sees China remaining unchanged at 9 percent for 2011 and 8.5 percent for 2012, but India's forecast was revised lower to 7.6 percent for both 2011 and 2012.
Duller Demand
Meanwhile, OPEC revised world oil demand growth downward by 0.18 million barrels per day (bpd) to show growth of 0.9 million bpd in 2011.
"Uncertainty in the world economy has dimmed the picture for 2011, particularly in the OECD region," the OPEC report stated, adding that "Chinese oil demand is bound to uncertainty because of new government policies aimed at reducing transport fuel use. India's increase in retail prices is expected to play a major role in dampening oil consumption in the coming year."
"Due to the weakening economic outlook," the report continued, "[T]he forecast for world oil demand growth in 2012 has been revised down to stand at 1.2 million bpd."
The exporting group estimated that demand for OPEC crude in 2011 was 29.9 million bpd, unchanged from the previous assessment and around 0.1 million bpd higher than last year. In 2012, demand for OPEC crude will average an estimated 29.9 million bpd, representing a downward revision of 0.1 million bpd compared to the previous report and no growth over the current year.
Weighing in with the world picture, the IEA revised global oil demand downward by 50,000 bpd for 2011 and by 210,000 bpd for 2012, with lower-than-expected 3Q11 readings in the non-OECD and a downward adjustment to global Gross Domestic Product (GDP) growth assumptions. Global GDP growth is now seen at 3.8 percent in 2011 and 3.9 percent in 2012 "with significant downside risks." IEA said. IEA demand estimates stand at 89.2 million bpd in 2011 and 90.5 million bpd in 2012.
Global oil supply fell by 0.3 million bpd to 88.7 million bpd in September from August, due to non-OPEC outages, IEA reported. The agency trimmed its non-OPEC supply projections by 0.3 million bpd for 4Q11 and by 0.2 million bpd for 2012. Annual growth will average 0.2 million bpd and 0.9 for 2011 and 2012 respectively, IEA said.
Finally, IEA said that OPEC crude oil supply nudged down to 30.15 million bpd in September, with lower Saudi Arabian and Nigerian output partly offset by resumed Libyan supply. Output in Libya reached 350,000 bpd in early October and capacity is assumed at 600,000 bpd by end-year.

Generated by readers, the comments included herein do not reflect the views and opinions of Rigzone. All comments are subject to editorial review. Off-topic, inappropriate or insulting comments will be removed.