Hiring Trends Favor Regions Where Drilling is Most Prevalent
by Trey Cowan
|
Rigzone Staff
|
Friday, October 14, 2011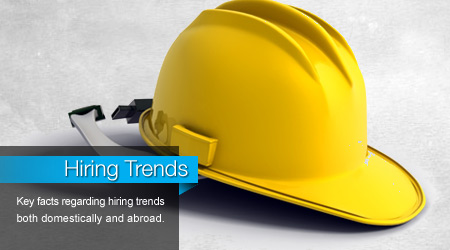 It is no secret that the oil and gas industry has (and will continue to have) a propensity for job creation. Domestically, look no further than the top-five drilling states for validation. Texas, Oklahoma, North Dakota, Louisiana, and Pennsylvania (in order of largest to smallest number of rigs in each state) currently control nearly 80 percent of all land drilling in the United States. All of these states have unemployment rates that are well below the national average of 9.1 percent. Combined unemployment of the five states, for the most recent month averaged 6.6 percent.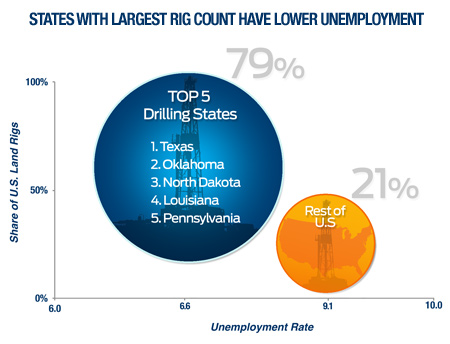 Globally, the hiring picture over the past twelve months has been clouded by bursts of civil unrest. And while supply disruptions in Libya and quantitative easing in the U.S. (resulting in a weaker dollar) earlier provided catalysts for a surge world crude prices, the uncertainties encumbered within both scenarios, along with a global economic malaise (especially Europe), have kept the demand to staff up in a more somber state.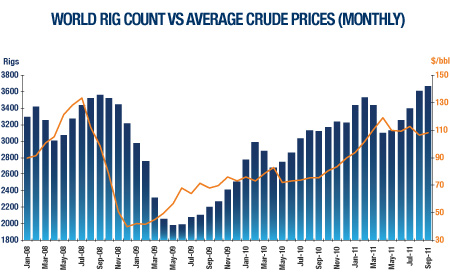 It is against this backdrop that over the past year the industry has experienced a one percent decline in average wages. Typically, when the oil prices fall there is a four-to-six month lag before the impact is felt in the rig count. The correlation between the two (i.e. average world crude prices and rig counts) is quite high at 85 percent. Thus, with oil prices whipping back-and-forth, it is no surprise to see tempered wage expectations.
There is some commitment on the part of operators to continue drilling through the soft patch. However, with a lag of approximately four months baked into the drilling equation for rig demand; we will not know for sure if this is really the case until the winter of 2012. Moreover, OPEC's recent decision to cut its demand forecasts for this year and next suggests there is a growing risk that drilling plans may be curtailed next year.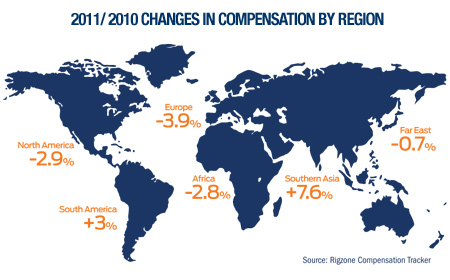 Regionally, South America and Southern Asia have bucked the trend of a modest amount of wage deflation in the past 12 months. Unwavering plans to increase production in both regions, but primarily in countries such as Brazil in South America and India in Southern Asia, are the driving forces behind the improving hiring trends in each.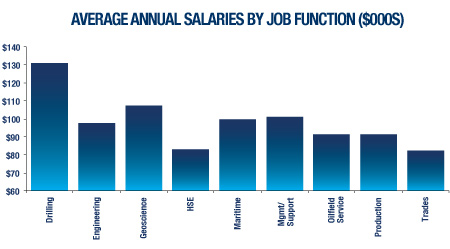 Rigzone's Compensation Tracker Online System continuously surveys job candidates. In the nine major job categories highlighted, careers in Geoscience experienced the highest salary growth over the past twelve months at +8 percent year-to-year. Drilling jobs garnered the highest wages of the various job functions and grew +6 percent versus the prior year. Another job function in high demand was oilfield services, where average annual salaries grew +4 percent compared to the year before.
Employers and recruiters who want to save time sifting through the clutter of unqualified candidates improve their efficiency and fill their open positions more easily with Rigzone's resume database.
Rigzone is the market leader in the oil & gas industry, delivering content, data, advertising and career services. If you would like a free tour of the Rigzone resume database, call (281) 345-4040 to schedule an online meeting or on-site demonstration.
Generated by readers, the comments included herein do not reflect the views and opinions of Rigzone. All comments are subject to editorial review. Off-topic, inappropriate or insulting comments will be removed.