Is Ohio the New Leader in America's Energy Sector?
|
Wednesday, October 12, 2011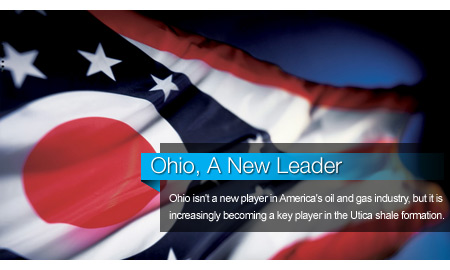 Related Articles
---
O&G Jobs
---
O&G Training
Ohio isn't a new player in America's oil and gas industry, but it is increasingly becoming a key player in the Utica shale formation. Termed "the shale gale" by some economists, untapped natural gas from shale is one of the most recently talked about energy developments, with most of that focus targeting Ohio.
Utica Shale, a rock unit located a few thousand feet below the Marcellus Shale, has the potential to become an enormous natural gas resource. Cal Dooley, American Chemistry Council President, recently said at an energy summit hosted at Ohio State University, that at a minimum this form of play could supply at least 100 years of natural gas with the potential of producing up to 200 years.
This undeveloped play could provide Ohio and its inhabitants with tremendous economic opportunity. According to an Economic Impact study, conducted by Kleinhenz & Associates for the Ohio Oil & Gas Energy Education Association, the projected impact from capital investments for the Utica Shale development will be responsible for more than 204,000 jobs created or supported by 2015 due to exploration, leasing, drilling and pipeline construction.
Additionally, because of the pace of development, economic output will increase by more than US $22 billion and increase wages by $12 billion by 2015 (this is attributable to wages, salaries and personal income). In total, oil and gas producers are expected to spend $34 billion in exploration and development, pipelines, royalty payments to landowners and other leasing expenditures.
Ohio's oil and gas industry association partnership, consisting of the Ohio Petroleum Council, a division of the American Petroleum Institute; the Ohio Oil & gas Association; the Ohio Oil & Gas Energy Education Program; Energy-in-Depth Ohio; and JobsOhio, held a press conference last month discussing the state's potential in job creation and energy production.
This conference was held for the associations to announce their industry partnership in working to create more jobs in Ohio, contribute to additional government revenues, and increase U.S. energy security directly to policymakers. The organizations hope that by responsibly developing this controversial play, all Ohioans looking for economic opportunity and energy security will benefit.
The said economic impact study was discussed along with API's national report, "U.S. Supply Forecast and Potential Jobs and Economic Impacts," conducted by Wood Mackenzie.
Wood Mackenzie predicts that U.S. production will grow from 18.5 MMboed in 2010 to 22.2 MMboed in 2030 given the current U.S. policy and regulatory environment. The 20-percent increase will allow the country's energy sector to create 1.4 million jobs and generate $800 billion in government revenue. This revenue will be primarily driven by unconventional plays.
Furthermore, the development of the resources will be used for gas consumption, as power for facilities, and as a primary raw material to make ingredients that are necessary in 96 percent of domestically produced manufactured goods, stated Dooley.
"Affordable, stable supplies of domestic natural gas, especially from the nearby Marcellus shale, have been a game changer for U.S. chemical manufacturers, giving them a global competitive edge for the first time in decades," Dooley commentated in the Charleston Daily Mail newspaper.
The shale market is also benefiting the steel industry. Expansions at steelmakers in Ohio are occurring because the commodity is used in "fracking" or the drilling for natural gas in shale basins. For instance, the U.S. Steel Corporation is nearing completion of upgrades at the Lorain Tubular Operations in Lorain, Ohio (a facility already capable of producing small and large diameter pipes).
"The project will improve the facility's cost competitiveness, as well as increase the company's ability to serve the oil and gas costumers, including those who are engaged in developing shale natural resources," said Erin DiPietro, Senior Public Affairs Representative at United States Steel Corporation. The facility is near start-up, and it is projected to create 100 full-time jobs.
The Timken Company is also considering upgrading its steel plant in Canton, Ohio at a projected cost of $225 million.
"If the expansion commences, it is expected to create a substantial ripple effect in the community," said Lorrie Paul Crum, Manager of Global Media and Strategic Communications at Timken.
This ripple economic effect is also trickling down to landowners. Reportedly, many area owners are being approached about leasing their land for oil and gas development. Belmont County has seen an influx of abstractors searching the area for mineral owners in the county recorder's office.
Casey Jenkins, a staff reporter for the Intelligencer/Wheeling News, reported that leasing companies have recently paid mineral owners as much as $60 million to lease their land. These abstractors are said to work for several companies that are pursuing natural gas from the Utica Shale.
While many benefits seem to come from the development of the Utica Shale, some are hesitant about moving forward. From environmental issues to the lack of actual hands-on experience with shale development, many wonder if Ohio is ready for the brewing onslaught.
When asked this question, David Mustine, General Manager for Energy for JobsOhio said, "We are conducting an open dialogue with all that will be affected by the development of the Utica Shale. We are communicating with local and regional leaders, as well as regulatory authorities and businesses looking to come to Ohio."
Generated by readers, the comments included herein do not reflect the views and opinions of Rigzone. All comments are subject to editorial review. Off-topic, inappropriate or insulting comments will be removed.