Buccaneer Looks North to Cook Inlet Potential
by Karen Boman
|
Rigzone Staff
|
Tuesday, October 11, 2011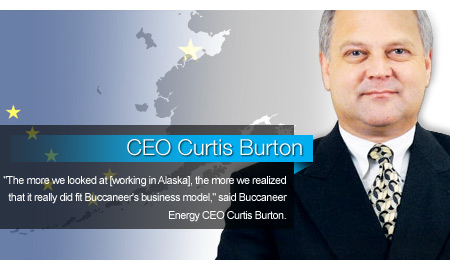 Buccaneer Energy CEO Curtis Burton expressed surprise at first when approached about working in Alaska.
"I thought, it's too cold, too regulated, too remote and too expensive," said Burton, who has 30 years of industry experience, on the operator side at Texaco as well as the drilling contractor sides of the business.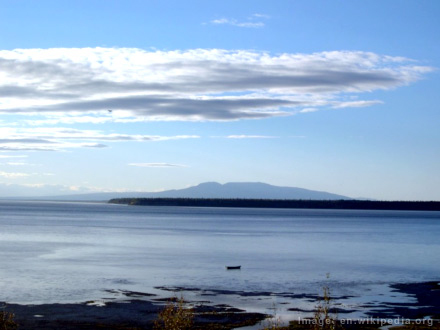 After a month of due diligence, however, Burton's initial ideas about working in Alaska were dispelled.
"The more we looked at it, the more we realized that it really did fit Buccaneer's business model," Burton said.
That business model includes directly involving personnel with regional expertise when entering a new market, taking a majority stake in projects and operatorship of these projects whenever possible, and seeking opportunities to fast track activity.
Cook Inlet's significant untapped natural gas reserves and potential markets in Alaska and abroad also convinced Burton that Buccaneer needed to head north to Alaska.
The company in March 2010 acquired a 70,000-acreage position from Stellar Oil & Gas, which was comprised of former Arco and Union employees, and began adding onto that position. Buccaneer managed to acquire an acreage position and required environmental and regulatory permits and drill and complete its first well in Alaska in less than nine months.
"Cook Inlet is a virgin basin for all practical purposes since there hasn't been a drillbit offshore since 1994," noted Burton.
While major oil and gas companies began exploring Cook Inlet in the 1950s, major discoveries on Alaska's North Slope soon drew them away.
"It's not that they weren't finding anything in Cook Inlet," said Burton. "But why pursue discoveries with a million barrels when you can pursue prospects with billions of barrels" of hydrocarbons.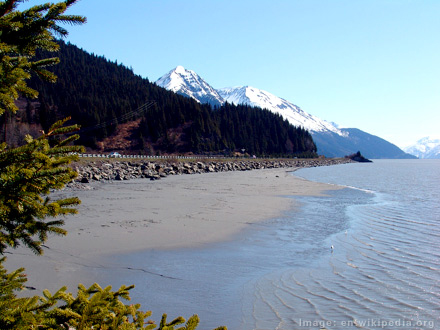 For companies like Buccaneer, Alaska provides a chance to explore for and produce low-risk, large oil and gas reserves. The untapped fields in Cook Inlet, with millions of barrels of hydrocarbons yet to be produced, are a big calling card for Buccaneer, Burton noted.
"The state is very focused on attracting smaller independents to the region, has a proactive regulatory stance, but is putting its money where its mouth is," said Burton, noting that two other independent O&G producers, Hilcorp and Apache, recently entered the Cook Inlet market.
Tax incentives for exploration in Cook Inlet, including a tax incentive for bringing a jackup drilling rig to the region, provided more incentive for Buccaneer to head north to Alaska.
Burton knew that the conventional rig contract strategy wouldn't work in Alaska, so the company sought to partner with the state for a jackup drilling rig. In June, the Buccaneer and Singapore-listed Ezion Holdings Limited executed an agreement with the Alaska Industrial Development and Export Authority (AIDEA) to acquire, upgrade and mobilize Transocean jackup Adriatic XI.
Under the agreement, AIDEA will make an investment of up to $30 million in the project. The rig's purchase is being finalized; the rig is expected to arrive in Alaska during next year's first quarter, and will initially drill the Southern Cross prospect.
AIDEA has agreed to extend the date of when Conditions Precedent of the joint venture agreement between Buccaneer's 50 percent owned subsidiary Kenai Offshore Ventures and AIDEA to Oct. 25 to allow key Conditions Precedent to be completed.
The rig has been renamed Endeavour through a contest in which Alaskans got to vote on the name change. The name Endeavour comes from Endeavour, one of the ships that was part of Captain Cook's fleet. Cook discovered Cook Inlet, and the body of water is named after Cook.
Buccaneer on Oct. 7 reported it had selected Houston-based Archer Drilling as the preferred operator for the rig. Archer will manage the rig's shipyard modification, mobilization and operation in Cook Inlet.
Archer has already mobilized a team onto the rig at its cold stacked location to commence detailed engineering scoping work in order to finalize shipyard modification budgets and scheduling. Scoping work is expected to take around 21 days to complete.
Buccaneer Moving Ahead With Alaska Drilling Plans
Buccaneer's Alaska projects include the Kenai Loop gas project onshore in eastern Cook Inlet. The company has 9,000 acres under lease here, which is on trend with the 178 Bcf Cannery Loop unit. Buccaneer reported on Oct. 5 that it planned a flow testing program for three potentially productive zones totaling 225 feet of net pay.
The company's other Alaska projects include the onshore West Eagle and West Nicolai Creek projects. The company has two offshore projects in Cook Inlet, Southern Cross and North West Cook Inlet.
"We believe the preponderance of gas we think we can produce can not only go to help the local market demand, but in the longer-term, can supply gas to the Kenai LNG facility and take advantage of LNG [liquefied natural gas] export opportunities in Asia," Burton speculated, noting the surge in Japan's LNG demand due to the earthquake and tsunami in March that knocked out much of Japan's nuclear power plants. China's growing demand for LNG also presents another export opportunity for Cook Inlet gas.
Buccaneer has already contracted to supply gas to local Alaskan utilities. Burton sees long-term opportunities to supply local industries and cities such as Fairbanks, which rely mostly on oil products for their fueling needs; this usage has become problematic due to air emission levels. Additionally, LNG could be used to power the state's marine transportation system in the future.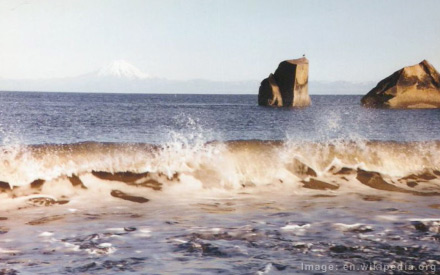 State Seeks to Lure Cook Inlet O&G Investment
In recent years, the Alaskan government has introduced tax incentives for exploration in both Cook Inlet and Alaska's North Slope to encourage wildcat well exploration. For Cook Inlet, the state offered an initial 20 percent, then later 30 percent or 40 percent on Cook Inlet exploration wells drilled and 10 miles away from an existing unit.
When the state overhauled its tax system in 2006, the state capped the amount of taxes Cook Inlet producers had to pay while it increased taxes on North Slope producers.
Despite the capped taxes and exploration credits, the Alaskan government was seeing inadequate investment in exploration and development in Cook Inlet gas reserves, said Gregory E. Bidwell, commercial analyst with the Alaska Department of Natural Resources' (DNR) Division of Oil and Gas.
"Gas deliverability in the Cook Inlet during the cold winter months became more of a concern," said Bidwell. To encourage Cook Inlet exploration and development and the construction gas storage facilities, the state passed a number of bills from January to mid-April 2010 during the 2010 legislative session.
The Cook Inlet Recovery Act (HB 280), introduced in January 2010, provide incentives for building more open access ore regulated storage capacity in Cook Inlet. The bill also increased the Qualified Capital Expenditure Credit for drilling wells to 40 percent from 20 percent and did away with various limits to Cook Inlet producers' ability to realize benefits of the credits.
In March 2010, Senate Bill 309 was introduced. SB 309 increased the corporate income tax credits for capital investments in Cook Inlet gas production from 10 percent to 25 percent and allows offsets up to 75 percent of the tax liability, up from the current 50 percent. The bill included a jackup well credit.
"A jackup rig hadn't been in the Cook Inlet in many years, and the legislature wanted to create a stampede of drillers wanting to bring a jackup rig up to the Cook Inlet," said Bidwell.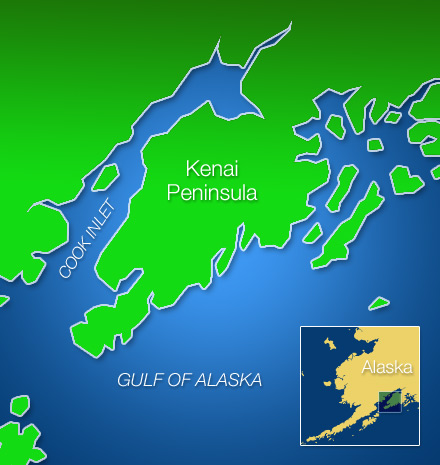 Maintaining Gas Supply Critical to Meet Winter Demand Spikes
South-central Alaska, home to more than 40 percent of Alaska's population, has relied on production from Cook Inlet gas fields to meet demand for electrical power generation, heating and industrial use since commercial production began in the 1950s. LNG also has been exported from the region's gas market since 1969.
While local gas demand has declined in recent years and the U.S. Geological Survey now estimates Cook Inlet to hold more hydrocarbons than previously thought, a growing number of Cook Inlet's maturing gas fields have begun to significantly decline in recent years.
This has raised concerns among local utilities over producers' ability to provide sufficient gas to consumers during winter demand spikes, with some predictions of price shortages beginning around 2011-2013.
When producers first began exploring offshore Cook Inlet, their main target was oil, but plenty of gas was also found. Oil discovered and produced in Alaska has typically been exported or used locally as a transportation fuel.
The few producers operating in Cook Inlet have continued to produce gas from the same fields for the past 34 years. In recent years, these fields deplete and finding costs for new gas discoveries rise.
"Until recently, the right price signals weren't available to provide incentives for producers to find and produce smaller, newer fields," said Kevin Banks, petroleum market analysts with the Alaska Department of Natural Resources' oil and gas division.
DNR's oil and gas division conducted studies in 2009 and 2011 to determine the size of remaining Cook Inlet reserves in existing fields and costs of extracting these hydrocarbons.
The results of the study suggested enough proved and probable gas reserves exist in Cook Inlet reservoirs to satisfy local demand well into and possibly beyond the next decade. However, continued investment was necessary to ensure production would continue as Cook Inlet gas fields mature.
DNR concluded that, if sufficient investment is made into maintaining production, Cook Inlet can continue supplying the region's gas needs through 2018-2020 absent exploration success in the basin.
"However, failure to make appropriate investments in lockstep with demand requirements will necessitate alternative sources of natural gas to be made available sooner," the report concluded.
Generated by readers, the comments included herein do not reflect the views and opinions of Rigzone. All comments are subject to editorial review. Off-topic, inappropriate or insulting comments will be removed.