Superior Energy to Buy Rival Complete for $2.7B
Superior Energy Services
|
Monday, October 10, 2011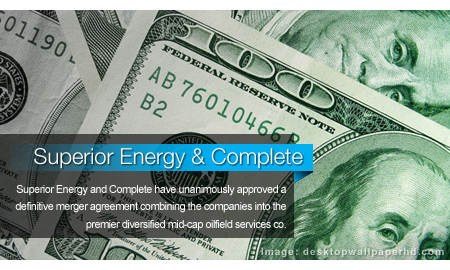 Superior Energy Services and Complete Production Services announced that their Boards of Directors have unanimously approved a definitive merger agreement combining the two companies into the premier diversified mid-cap oilfield services company.
Under terms of the agreement, Complete stockholders will receive 0.945 common shares of Superior and cash of $7.00 in exchange for each share of Complete common stock held at closing. This represents a premium of 29% to Complete's average price over the last two months. Upon closing, and reflecting the issuance of new Superior shares, Superior and Complete stockholders are expected to own approximately 52% and 48%, respectively, of Superior's outstanding shares.
"The combination of Superior and Complete creates a top-tier diversified oilfield services company with the products, technologies and talented people that are critical to helping our customers create value, particularly in unconventional fields in North America," said David Dunlap, Superior's President and Chief Executive Officer. "Together we will have enhanced positions in large sectors for key products and services that are high in usage intensity and deemed critical by our customers during their drilling, completion and production processes. Some of these products and services include hydraulic fracturing and other pressure pumping services, coiled tubing, well servicing, snubbing and wireline, in addition to fluid handling and production testing.
"One of the important benefits of this transaction is the ability to gain access to these additional products and services while maintaining a diversified revenue base. For instance, at June 30, 2011 Complete had approximately 315,000 horsepower of pressure pumping capacity to provide hydraulic fracturing services in North America. As a result of our combined broad diversification, pressure pumping would have comprised just under 25% of proforma North American land revenue for the twelve months ended June 30, 2011, and approximately 10% of proforma total revenue for the twelve months ended June 30, 2011. Furthermore, our combined North American coiled tubing operations would have resulted in our combined coiled tubing product line representing about 15% of proforma North American land revenue for the twelve months ended June 30, 2011.
"We anticipate that the proposed merger will also assist us in more rapidly executing our stated strategy of international expansion as the enhanced earnings and cash flow capacity of the combined entity can provide incremental capital and other resources to deploy in international markets.
"We expect significant operational and customer benefits from the combination, with minimal consolidation cost savings. As soon as possible, we intend to establish integration teams to clearly define the importance of employee retention."
Joe Winkler, Chairman and Chief Executive Officer of Complete said, "This transaction provides Complete shareholders substantial value for their shares and gives them the opportunity to participate in the upside potential from both a larger position in the North American market area and exposure to growth in international markets. Together, we will possess the scale and offer the range of services necessary to compete successfully on the global stage. I believe our talented employees, with their industry-recognized reputation for technical expertise and operational excellence, will immediately add value to Superior's operations. We look forward to working with Superior to realize all of the benefits of this combination, and its exciting portfolio of projects, for our shareholders, customers, employees and partners."
Superior expects the combination to be accretive to earnings per share and cash flow per share in 2012, excluding transaction and integration costs. Superior further expects the transaction will be balance sheet neutral as measured by key leverage ratios, yet ultimately is expected to result in an overall credit profile enhancement given the significant increase in scale and diversity provided by the combination.
Both Superior and Complete confirmed their prior guidance for 2011; however, Complete indicated that third quarter results will be below its prior guidance. Complete now expects third quarter 2011 EBITDA to be between $155 million and $160 million. Items impacting Complete's third quarter, which are not expected to affect prior expectations for the fourth quarter of 2011, include delayed deliveries of fluid ends causing intermittent shut downs of several frac fleets, defective components on recently deployed coiled tubing units, flooding in Pennsylvania and northern Mexico, and repositioning of one of Complete's pressure pumping fleets from the Barnett Shale to West Texas.
The combined company will retain the name Superior and will be led by David Dunlap, Superior's current President and Chief Executive Officer. The Superior Board of Directors will be expanded to include two independent Complete Board members.
The merger is subject to the approval of both Superior's and Complete's stockholders as well as other customary approvals. The companies anticipate that the transaction will close as soon as the end of this calendar year. Superior and Complete intend to file a joint proxy statement / prospectus with the Securities and Exchange Commission as soon as possible.
Greenhill & Co. is acting as Superior's transaction and financial advisor and rendered a fairness opinion to Superior's Board of Directors. In addition, J.P.Morgan provided transaction advice, acted as financial advisor and provided a bridge financing commitment with respect to the cash portion of the transaction. Jones, Walker, Waechter, Poitevent, Carrere & Denegre L.L.P. is acting as Superior's legal advisor. Credit Suisse Securities (USA) LLC is acting as Complete's financial advisor and rendered a fairness opinion to Complete's Board of Directors. Complete's legal advisor is Latham & Watkins LLP.

RELATED COMPANIES